6427 Miles: A Tour of America by Car

By Gerard Forgnone

---

I've been working a lot lately, and needed a vacation. Driving vacations are great...see our country, meet people, experience life. I recently finished Stephen Ambrose's fantastic book, "Nothing Like It In The World," the story of the building of the first Transcontinental Railroad, from Sacramento headed east, and Omaha headed west, meeting at Promontory Point, north of Salt Lake City, Utah. Click the image below to buy a copy from Amazon.com!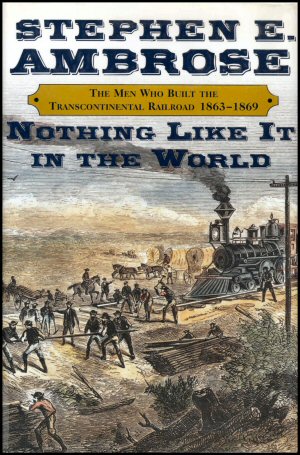 I hadn't seen friends and relatives in Central and Northern California for a while, so I figured I ought to take a week and visit some folks on the way to Sacramento. Sacramento to Omaha would be about a week as well. I looked at a map of the United States, and Omaha is pretty much the middle of the country. I asked myself, "Self, what are you going to do once you get to Omaha? Drive straight back to San Diego?"

NO WAY!

There are dear family friends in Milwaukee to visit, my sister in Detroit, and lots of other stuff to do in the Midwest. Hey, take another TWO weeks, and see the country! That's what driving vacations are all about...seeing the country, and being flexible to take detours. So, that's what I did. Four weeks total, stayed with friends sometimes, but camped in the back of my 2000 Mercury Mountaineer most of the time, to save money. It was quite the experience!

Here are some tidbits:

Left San Diego on Friday, August 30, around 12 noon.
Started the railroad tour in Sacramento on Thursday, September 5, around 11 am.
Finished the railroad tour in Omaha, Nebraska, on Thursday, September 12, around 3 pm.
Returned to San Diego on Thursday, September 26, around 10 pm.
4 weeks, 27-1/2 days.




Drove 6427 miles, all but 20 miles completely alone.
Used 22 tanks of gas and 2 quarts of oil.
Stayed in ONE hotel room, a locally-owned, non-chain, because there were no campgrounds within 40 miles of my next day's destination.
Ate only in restaurants that are not in California...5 times.
Never listened to the radio...not once.
Never saw TV.
Took 2945 digital photos on 3 cameras.
Lost 8 pounds.


Ok, let's start the trip!

Go to next page


---
Links to each page individually:



Day 1, San Diego to Lockwood, Ca.

Day 2, Lockwood, CA to Scotts Valley, CA

Day 4, Scotts Valley and Salinas, CA

Day 6, Scotts Valley, CA to Fairfield, CA

Day 7, Fairfield, CA to Truckee, CA

Day 8, Truckee, CA to Winnemucca, NV

Day 9, Winnemucca, NV to Ogden, Utah

Day 10, Ogden, Utah to Rock Springs, Wyoming

Day 11, Rock Springs, Wyoming to Cheyenne, Wyoming

Day 12, Cheyenne, Wyoming to Gothenburg, Nebraska

Day 13, Gothenburg, Nebraska to Omaha, Nebraska

Day 14, Omaha, Nebraska, to Des Moines, Iowa

Day 15, Des Moines, Iowa to Germantown, Wisconsin

Day 16, Germantown, Wisconsin and Milwaukee, Wisconsin

Day 17, Germantown, Wisconsin to Detroit, Michigan

Day 20, Detroit, Michigan to Dayton, Ohio

Day 21, Dayton, Ohio to Indianapolis, Indiana

Day 22, Indianapolis, Indiana to Livingston, Illinois

Day 23, Livingston, Illinois to Knob Noster, Missouri

Day 24, Knob Noster, Missouri to Kansas City, Missouri

Day 25, Kansas City, Missouri to WaKeeney, Kansas

Day 26, WaKeeney, Kansas to Raton, New Mexico

Day 27, Raton, New Mexico to Meteor Crater, Arizona

Day 28, Meteor Crater, Arizona to Home



---
Questions? Comments?