6427 Miles: A Tour of America by Car

By Gerard Forgnone

---
Day 13

Wednesday, September 11, 2013

Gothenburg, Nebraska to Omaha, Nebraska

I got out of the Mounty this morning at the normal time for me (LATE) and got moving towards the next stop at Minden, Nebraska. The fellow traveler in North Platte gave me a brochure to Pioneer Village, and said it was worth seeing. WOW! Was he right! I arrived about 11 am, and stayed until closing at 4:30 pm. I walked very fast, and did not stop to read information placards...I'd just snap a photo if it looked interesting. I went through only half of the buildings! What an amazing place. If you're ever in south-central Nebraska, STOP HERE! Click the map below to visit the Pioneer Village website.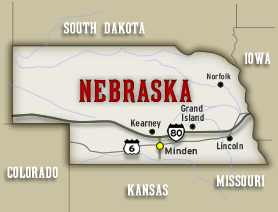 Harold Warp made his fortune in the plastics industry, starting Warp Plastics in 1924. He thought that we, as a society, were throwing away our history by not keeping the everyday, mundane items of life. So, Harold Warp made a museum! What he says below is prophetic, when you think about it. The progress humankind has made in just a few short years is amazing. Look at how long humans have been on Earth. In the past 150 years, we've gone from primitive living to such modern amenities...it's just nuts.




The keyword of old-time fashion: LAYERS!




Sensory overload!




This is the center of the property, around which there are 26 buildings, some very historic and meaningful.




Yep, a real true sod house! This one has all the period-correct furnishings inside as well. Mom grew up in Kansas from 1926 to 1938, and said she remembered a few of these houses.




Ever wonder how corn brooms are made? In this machine, of course!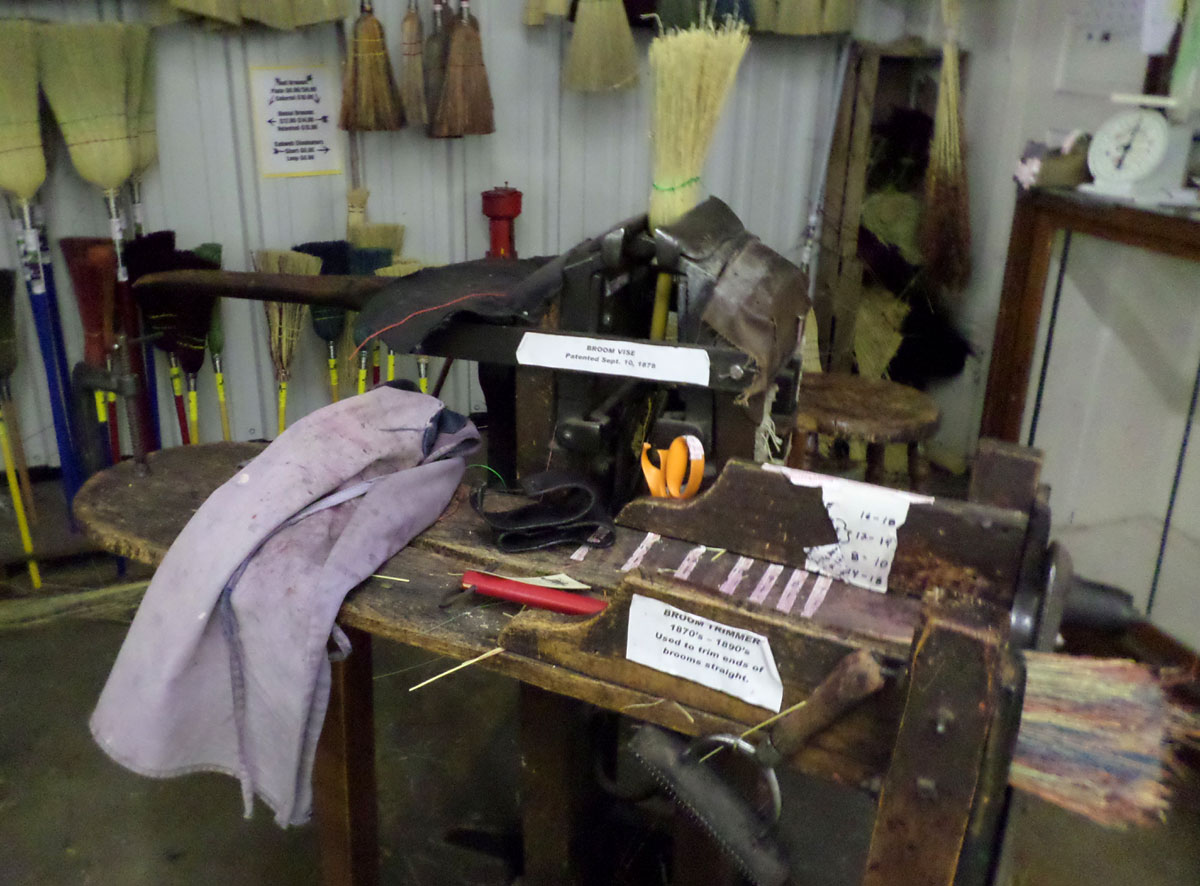 TV's, VCR's, electronics of all sorts. Look at the HUGE fake-woodgrain VCR. Who could have ever imagined we'd have video playback in our pockets now? Yes, your smartphone is a VCR!





A vintage doctor's office, with an iron lung breathing machine.




Old time barber shop!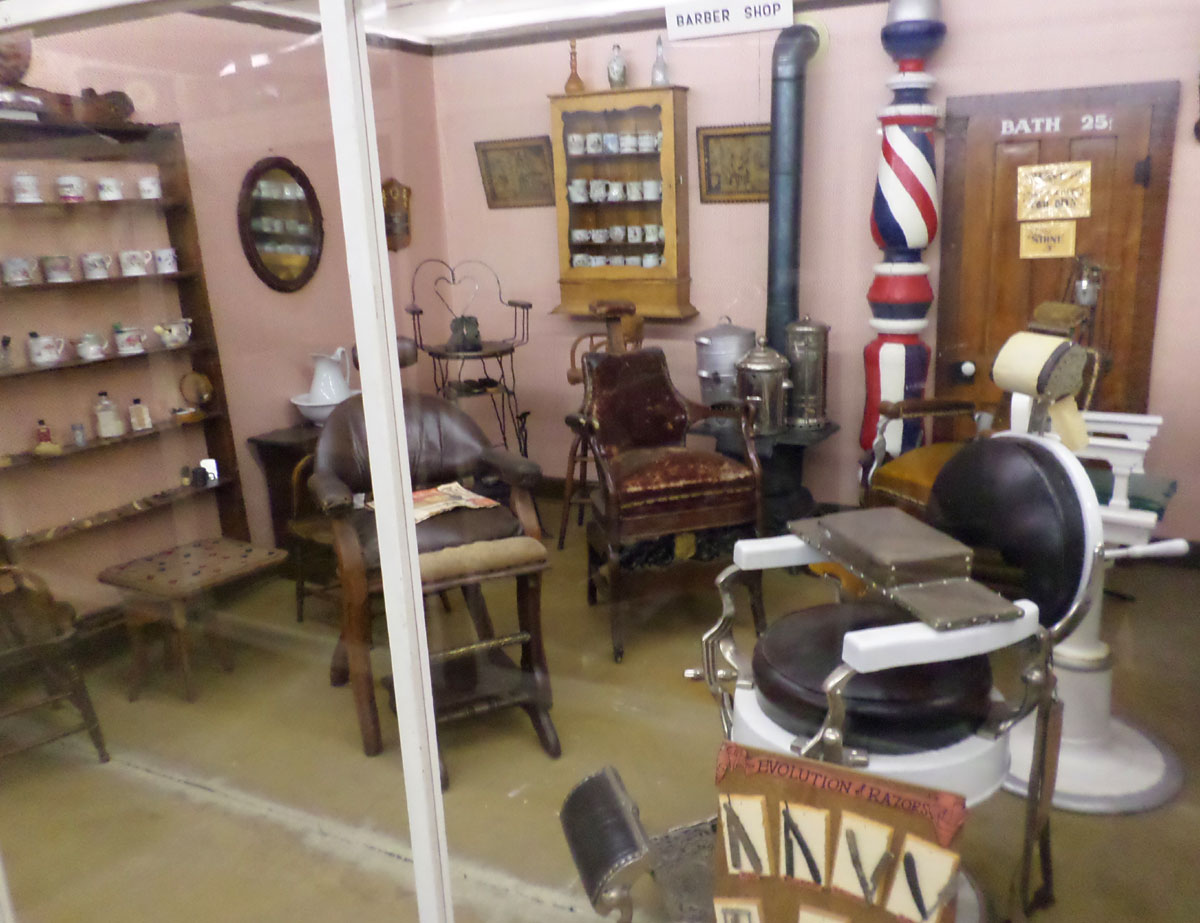 Shoemaking.




This series is really cool! Here are kitchens from several eras, starting with a "modern" 1910 kitchen. Hey, they were cooking INSIDE, with no smoke pouring from the fire, for a change. The stove is fired by wood or coal. On the right is an ice box for keeping things cold.




By 1930, the stoves were fired by natural gas. On the right is an early refrigerator.




In 1950, the stove was still gas, but getting smaller. The refrigerator was getting bigger. I remember kitchens like this. Our house growing up had those same drawer handles. My mom's mixer was exactly the same.




The 80's have arrived, and everything is dark wood! Electricity was cheap in the 70's, so many houses in that era were fully electric. Check the "appliance garage" rollup door and the tiny TV on the right!




Here is some equipment from the Warp Plastic Factory. There were some cool vintage photos on the wall to the left. I remember seeing those bright yellow and red displays in hardware stores.




It finally hit me like a ton of bricks: All the acrylic sheeting was made by Mr. Warp himself! Is this sensory overload here? This is the SECOND floor of just ONE building!




Farm implements galore.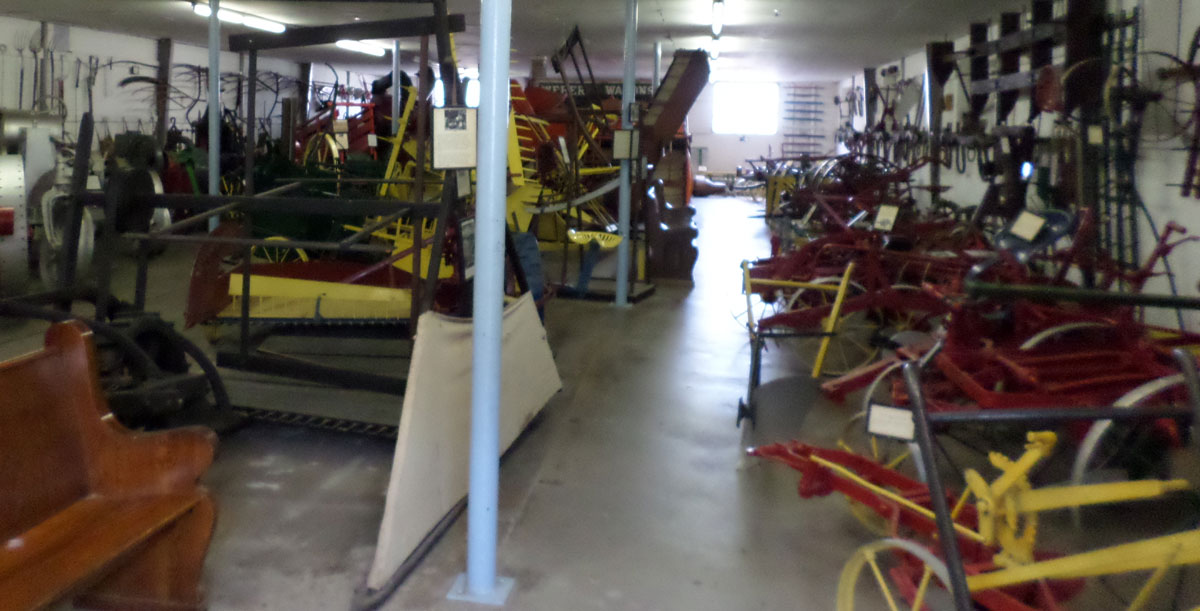 This was just one of three or four buildings with tractors. I know someone who's going to go crazy when she gets into this building!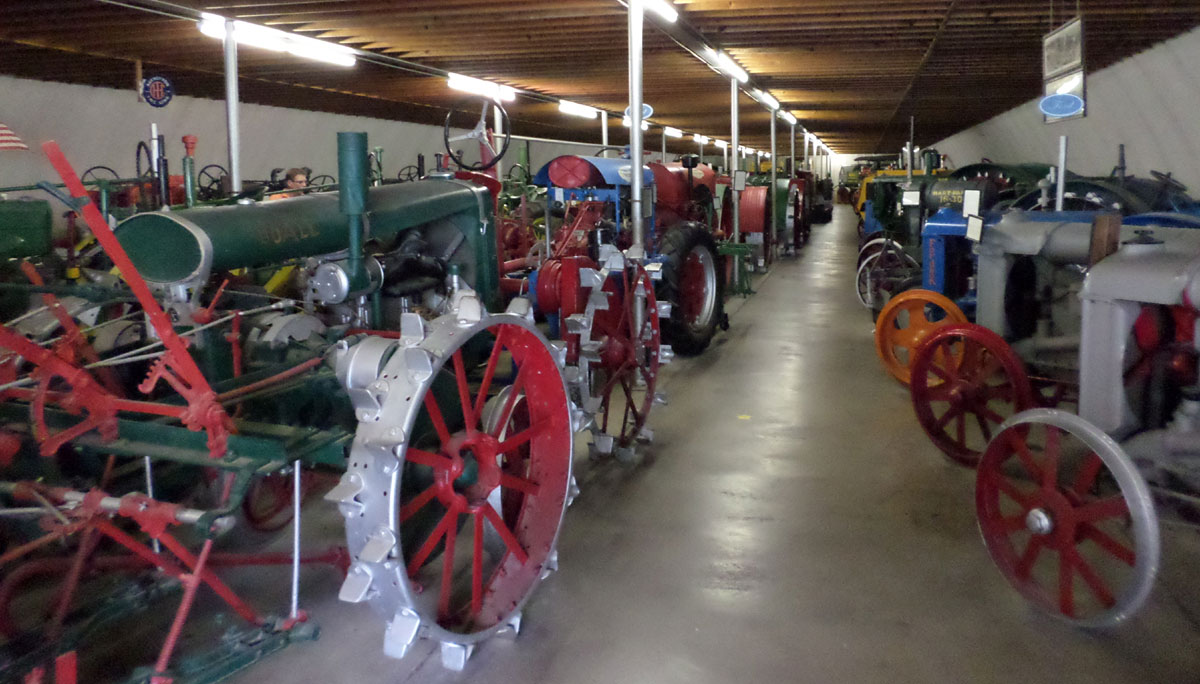 A swamp tractor.




Upper floor display, with lawnmowers on the side. On the other side, there were vintage chain saws.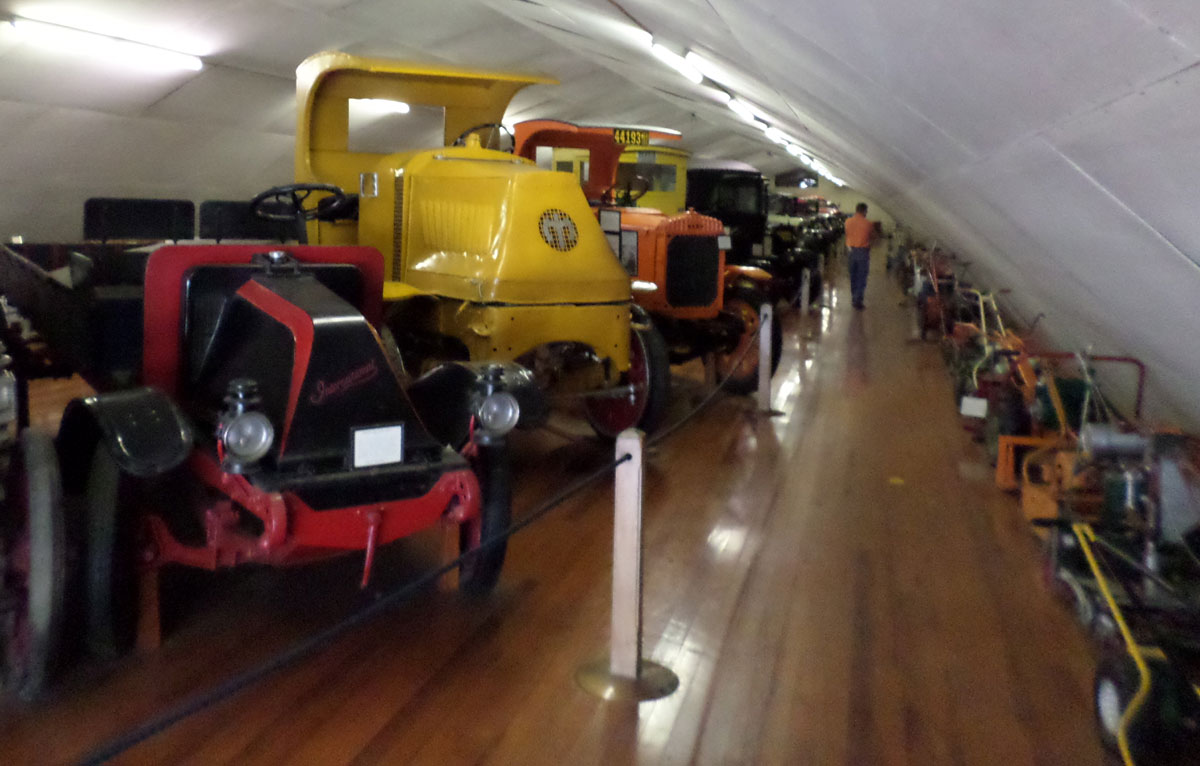 Just one of many rows of vintage cars. The significance of most examples is that they have NOT been restored. Many wear period-correct tires, factory paint, and upholstery, which is very, very rare, and important, as it is difficult to find examples that haven't been repainted through their lifetimes. Mr. Warp's early start in 1953 helped him find unrestored cars of all types. I've seen TONS of cars at shows and museums, and this was, by far, the most amazing collection ever.




Kaisers on the left. The grey one, fourth back on the left, is a 52, just like one we had.




Snow car and snowmobiles! The other side was filled also.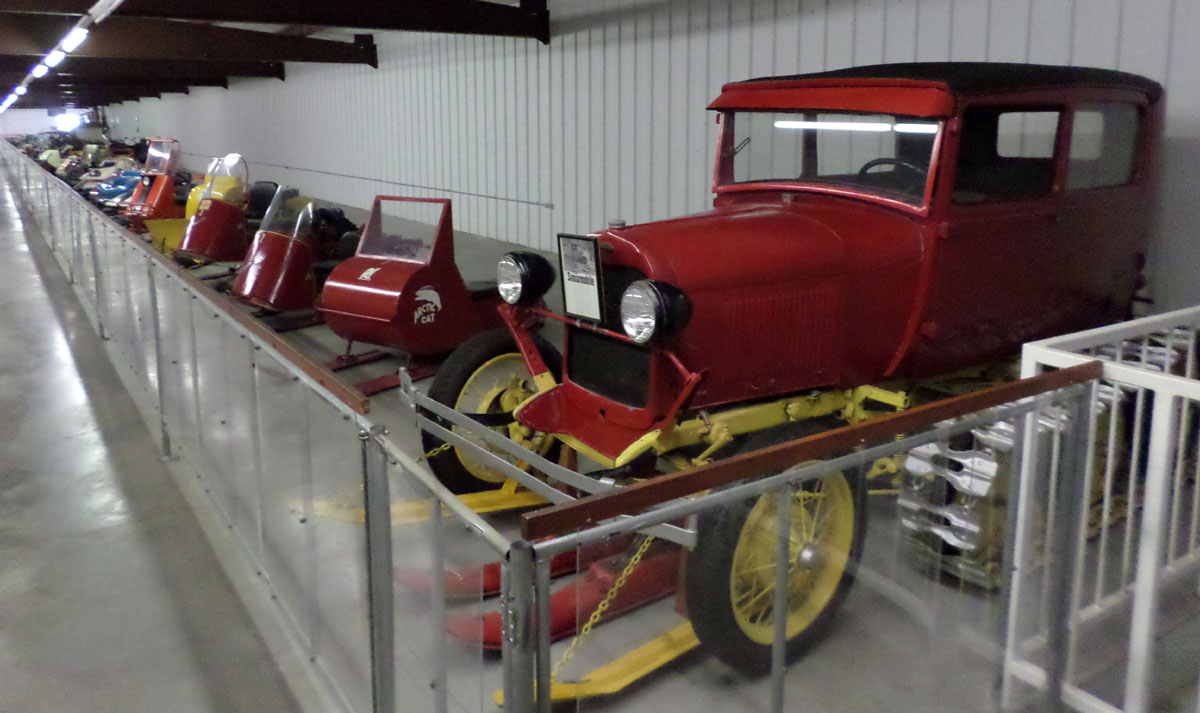 Ok, snowmobile folks, why is there a hoop on the ski? To lift the front?




Early Honda ATC90 in red, and a 2-wheel drive Rokon in yellow. This was the first time I'd ever seen a Rokon in real life, having seen the ads in magazines for years.




This tractor is HUGE! Check out how the shade barely clears the rafters! The rear wheels are about 9 feet tall. The original owner who donated this tractor DROVE it two days to deliver it to the museum in the 1970's.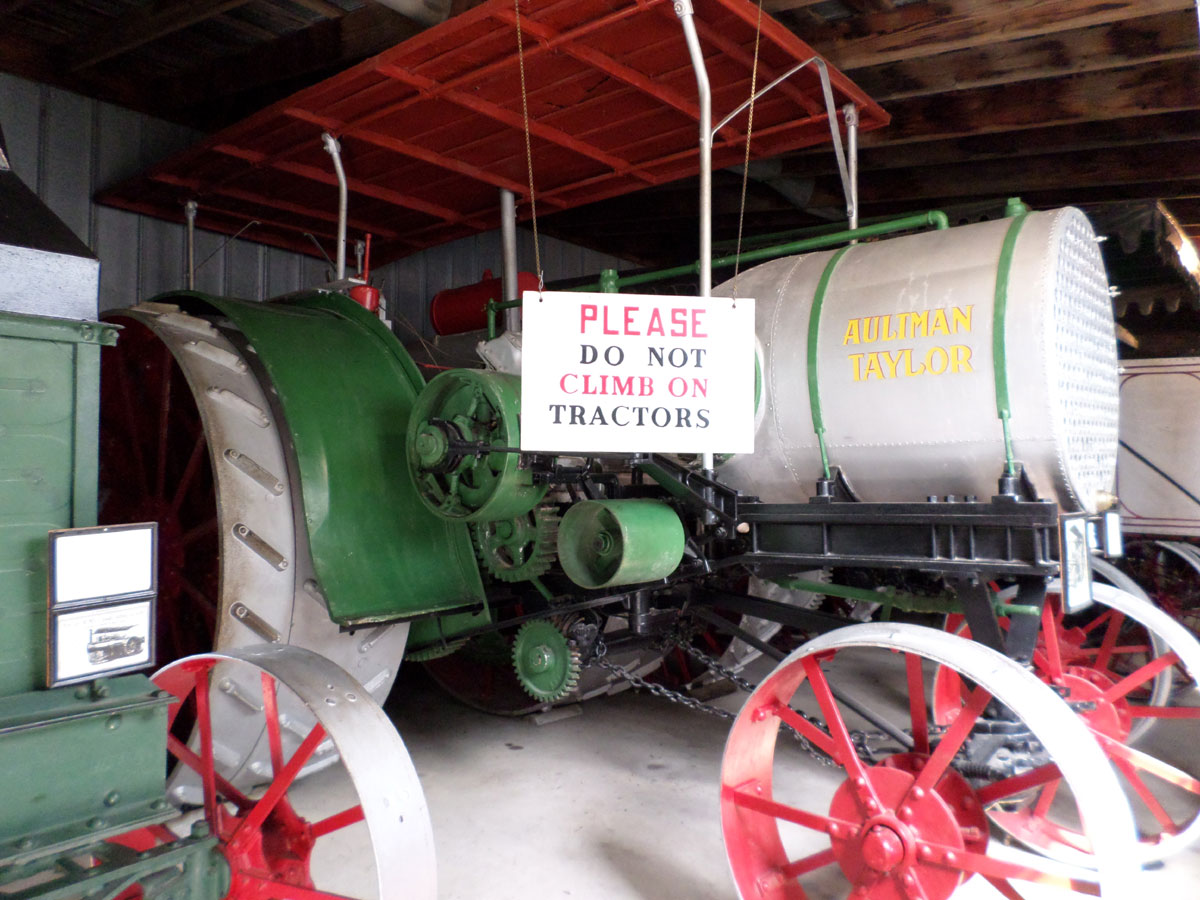 A metalworking shop.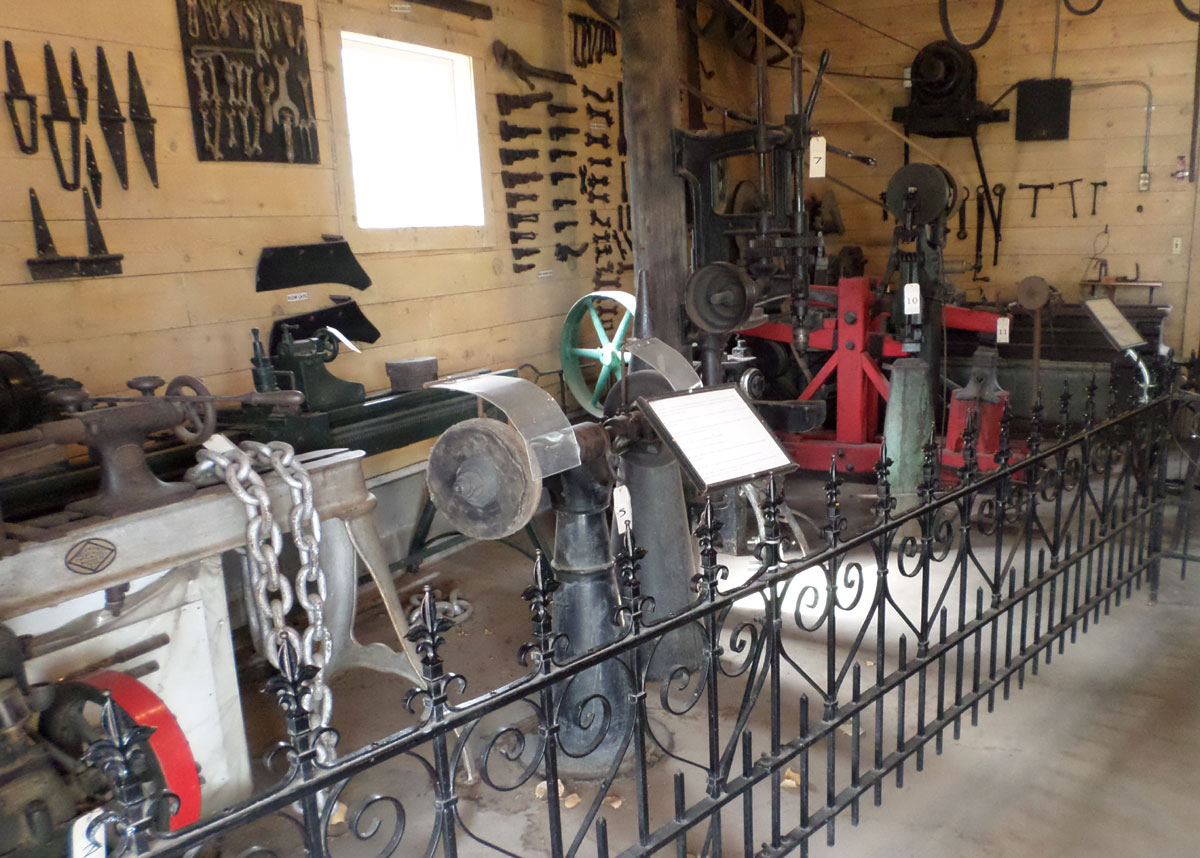 I ask everyone I see to tell me an item in their kitchen. Toaster? Yep. Refrigerator? Check.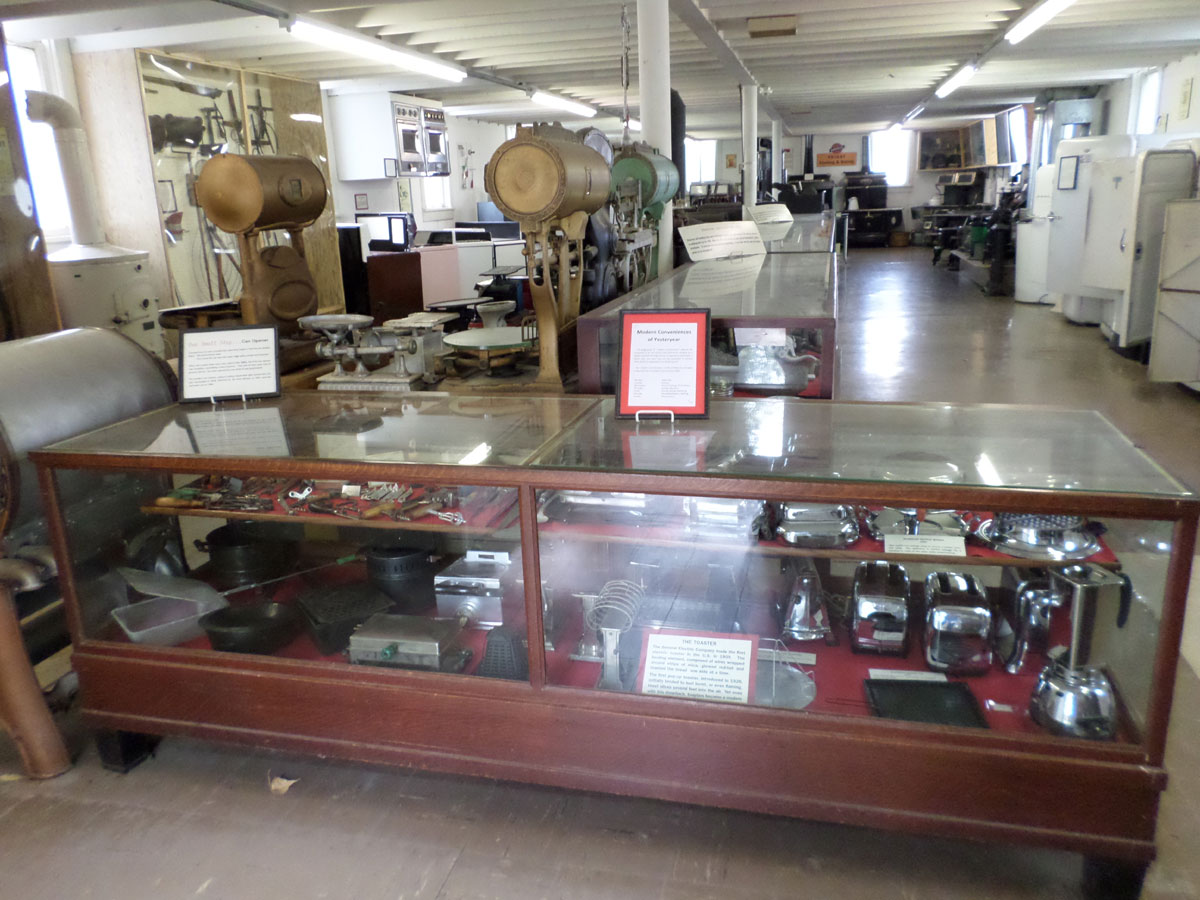 Vacuum cleaner? Of course!




All kinds of refrigerators.




Wood fired cooking stove.




Canning equipment.




Everything you would need to wash anything, including yourself!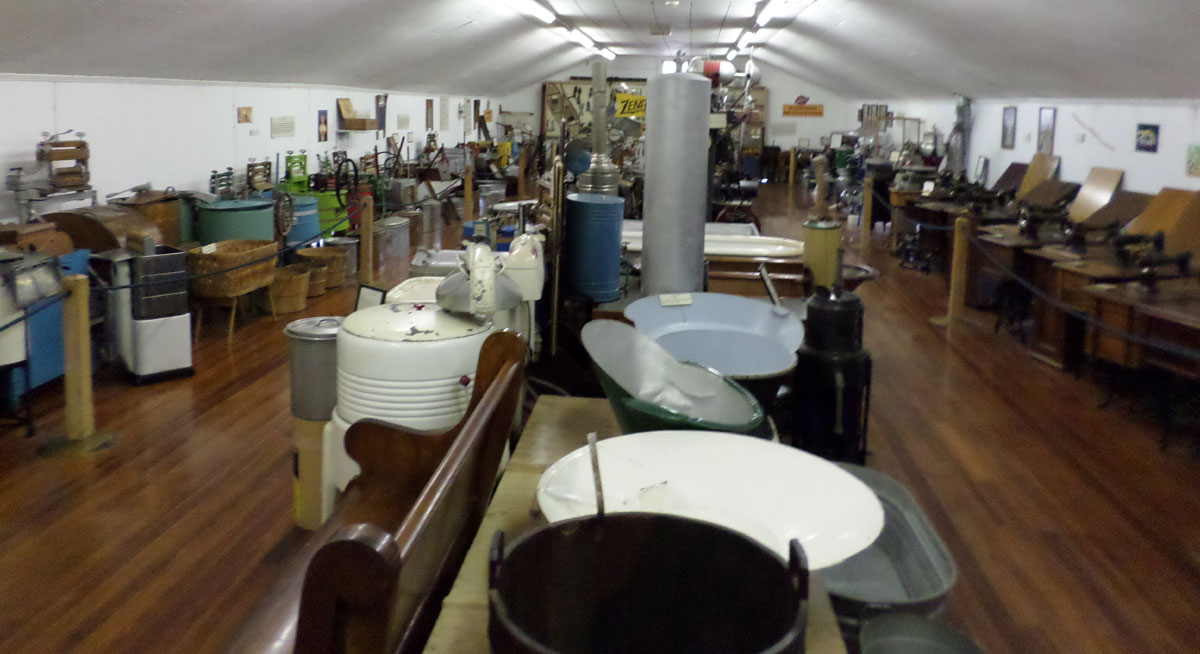 Apparently, regular bathing was not recommended by doctors for many years. The Romans bathed, but after the fall of the Roman Empire until the mid 1800's, conventional wisdom and doctors told people not to get wet, for fear of catching some illness. The placard on the tub on the left says it was banned in its first city, then heavily taxed afterwards.




This was really inventive! Turned on this side, it was a bathtub. Lift and rotate clockwise, and it becomes a table! Space-saver!




Laundry time!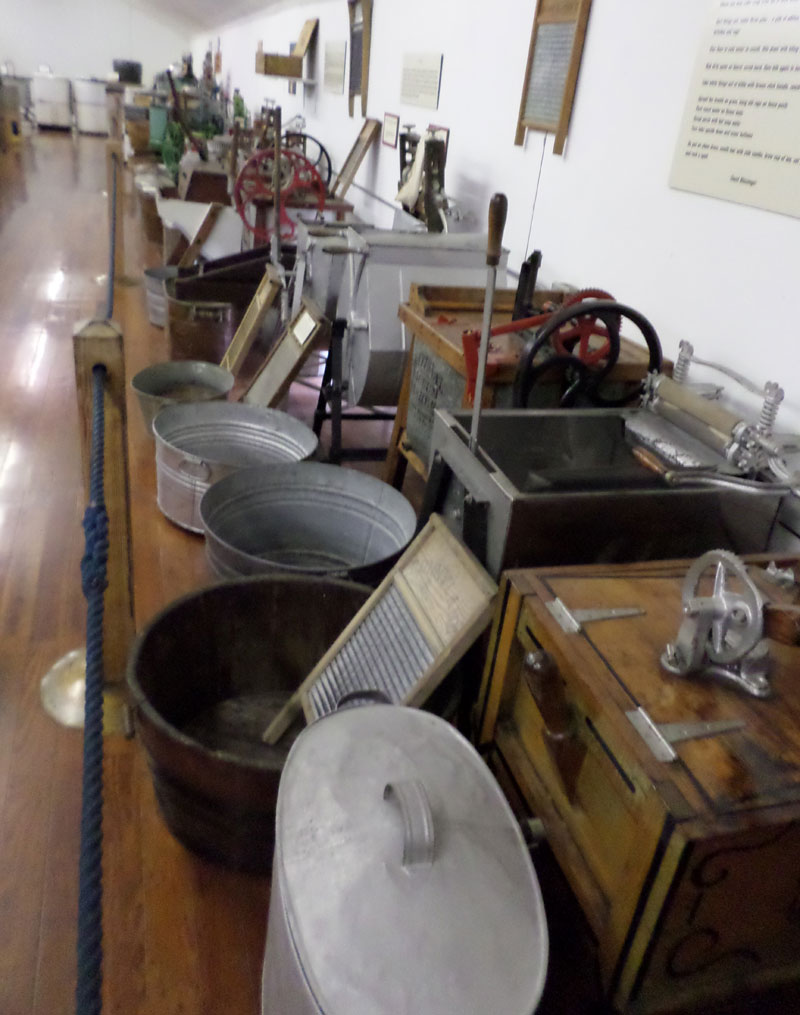 This was called the "Hobby House." If you notice, there are two of each...Salt and Pepper shakers! Thousands of salt and pepper shakers!




How about ballpoint pens????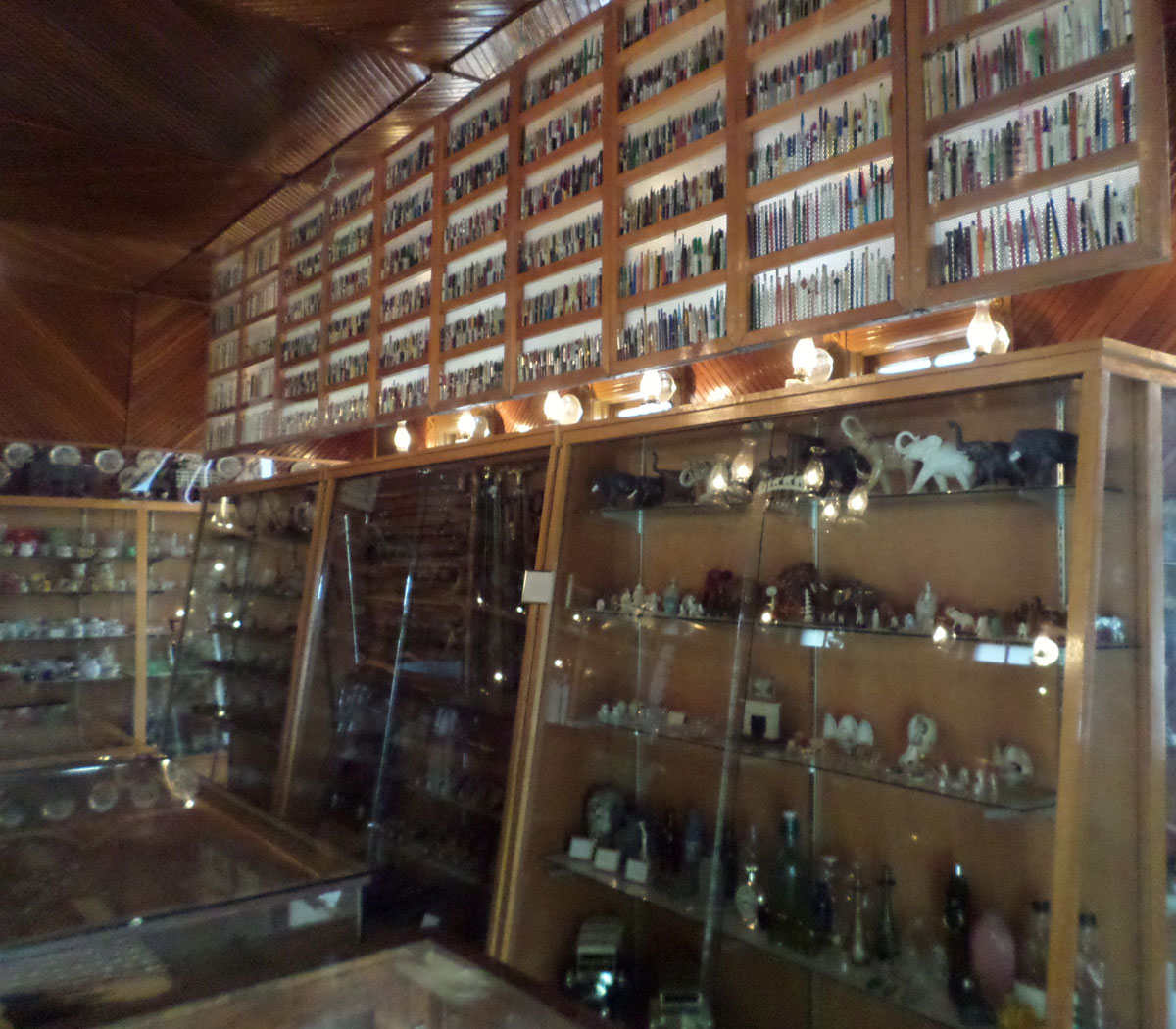 The Valhalla was one of only a handful of formerly private boats that ever saw combat in World War II. It's one of even fewer that actually attacked and sank a German U-boat submarine, using depth charges. This was Harold Warp's private yacht before and after the war.

Need an outboard motor???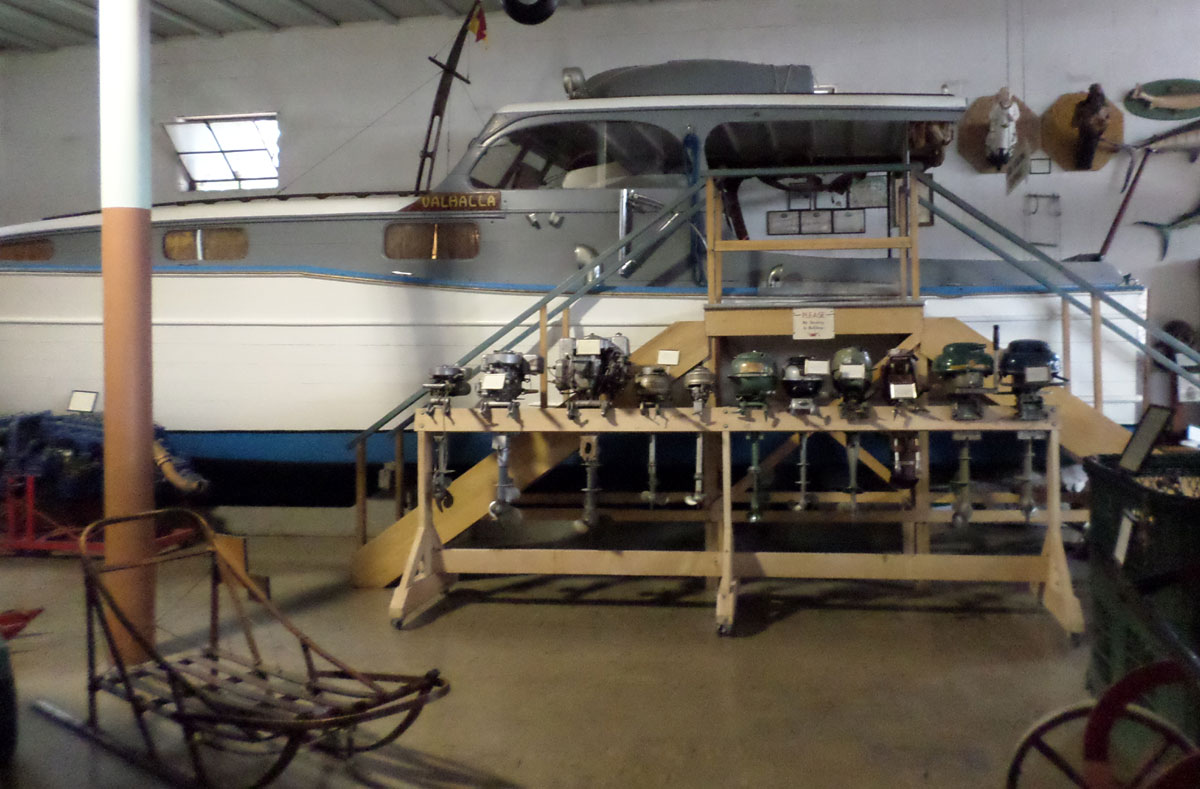 A vintage trolley car.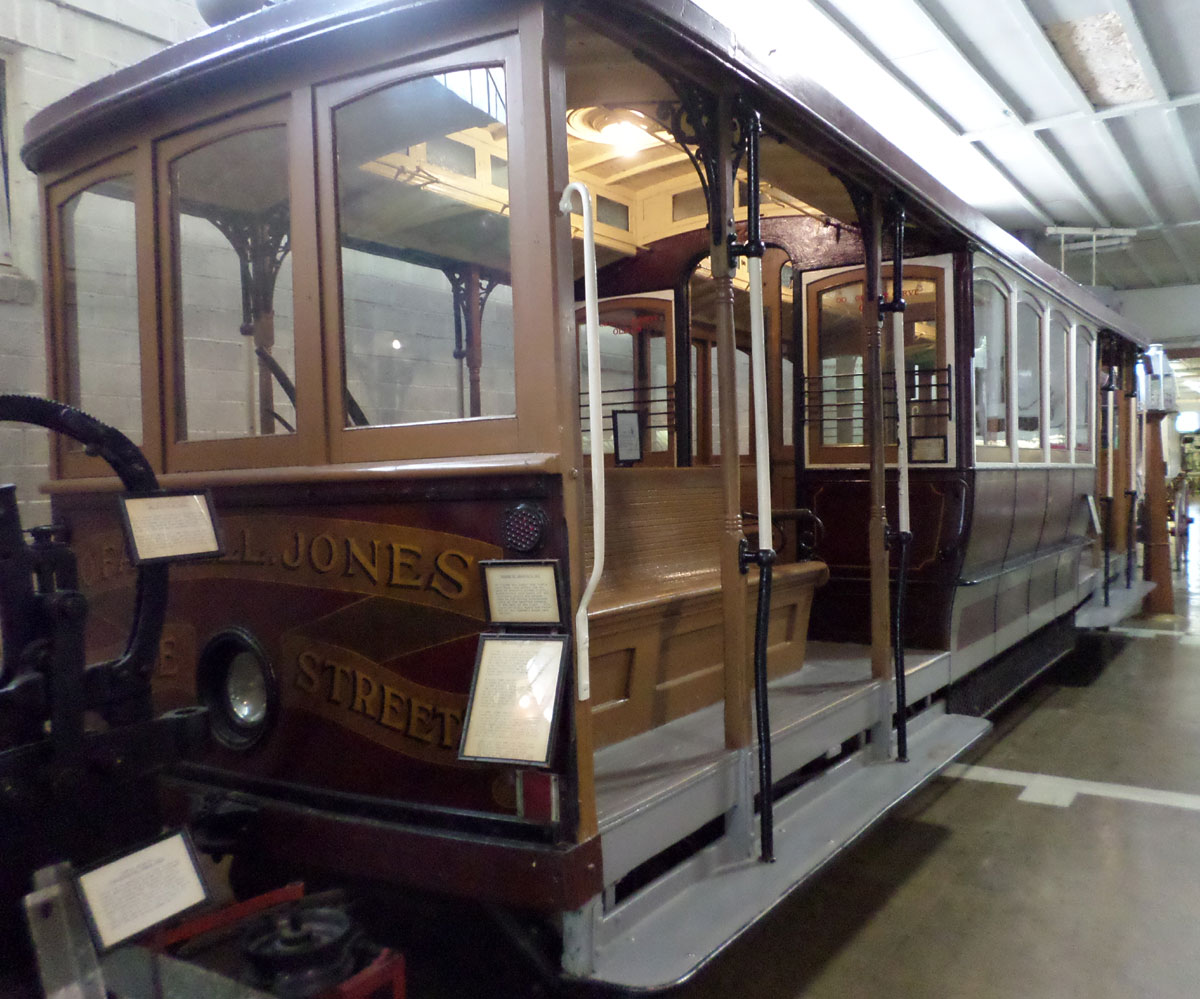 Ok, pick out all that's in this image...information overload!

Two or three airplanes, several airplane engines, a bunch of outboard motors, several old style wheelchairs. Every building was like this!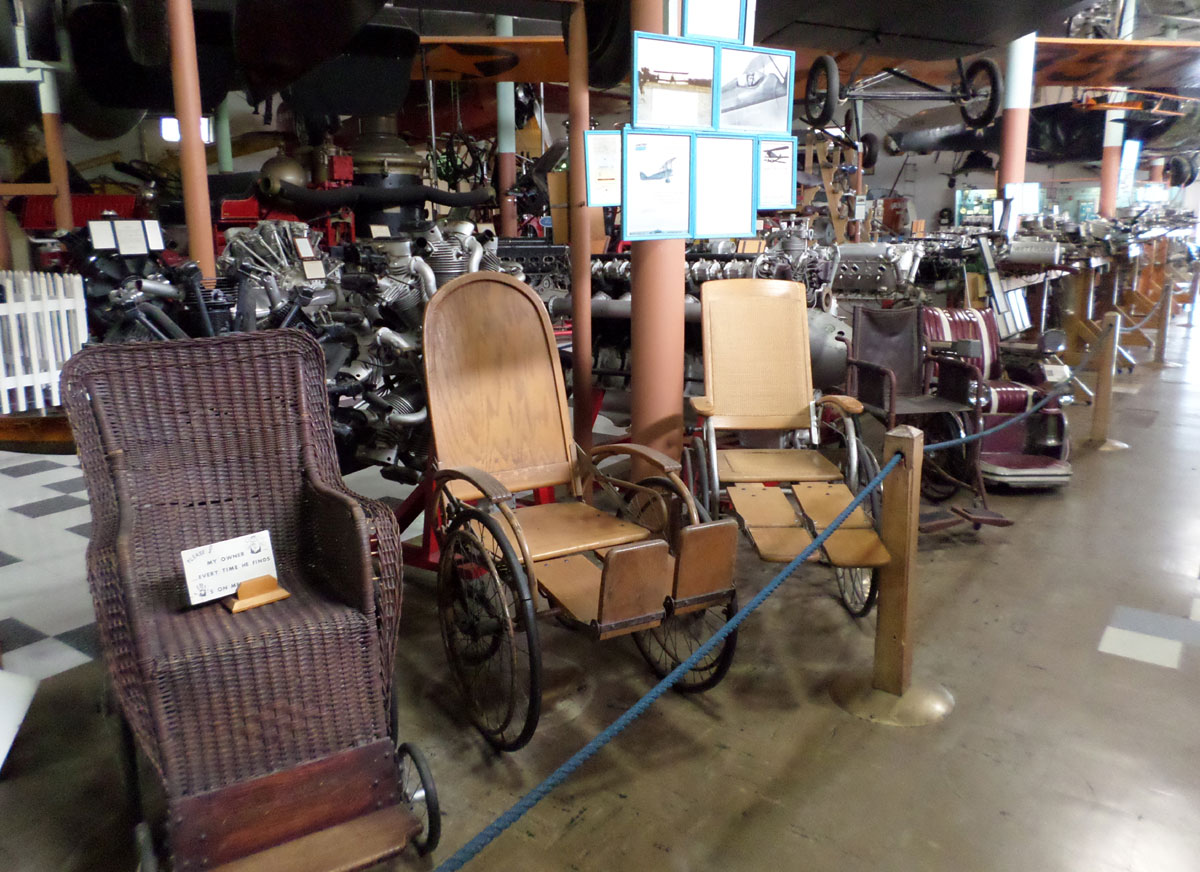 Cameras. Hey, I'm using a camera to take a picture of cameras!




Telephones and office equipment.




Holey Moley, what an amazing afternoon! I'm going back next year, and spending TWO full days here. Pioneer Village owns a hotel, restaurant, and RV park on the same property, just around the corner from the main museum. See ya there in 2014!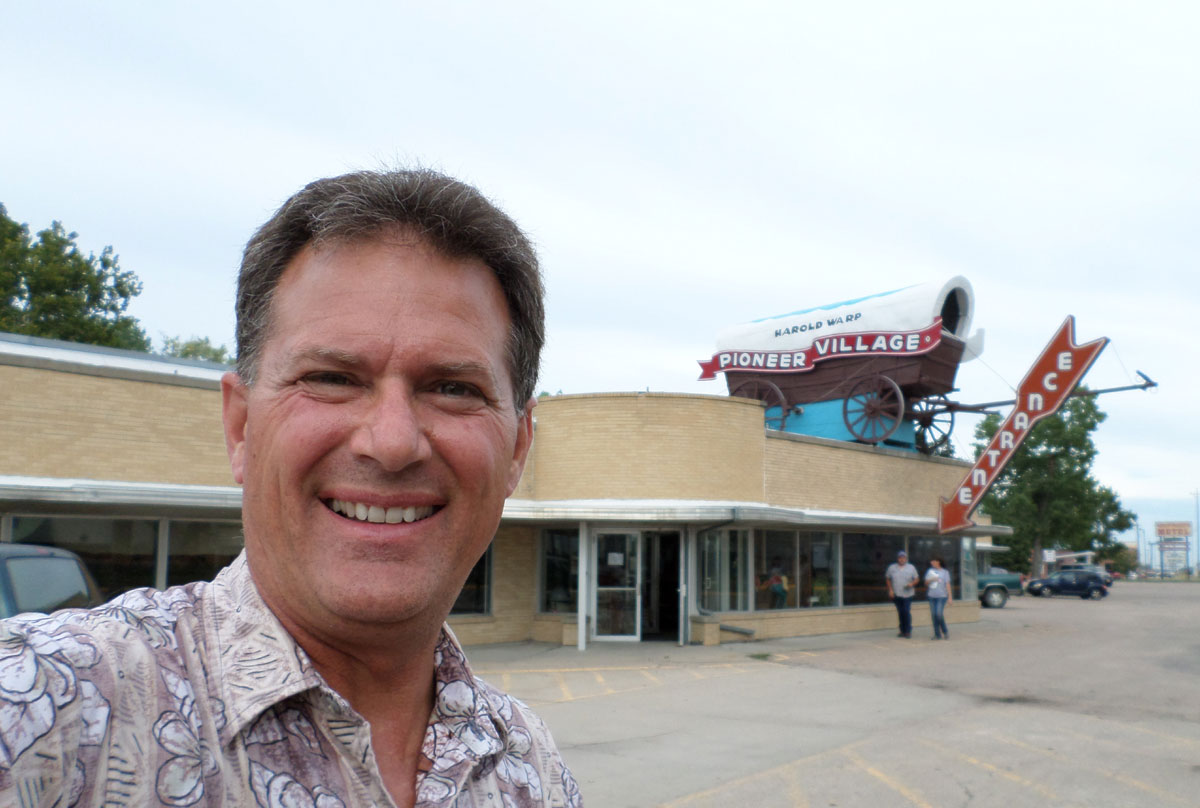 Back on I-80, headed toward Omaha. It threatened rain, but never really did.





I stopped this evening just outside Omaha. More pics tomorrow.

Go to next page

Go back to title page


---
Questions? Comments?