6427 Miles: A Tour of America by Car

By Gerard Forgnone

---
Day 10

Sunday, September 8, 2013

Ogden, Utah to Rock Springs, Wyoming

The night was spent at the Ogden, Utah, KOA Kampground. The place was pretty nice...it had just rained the day before, so things were moist, and the skeeters were out!




I drove up the interstate freeway, and missed the turnoff to head to Promontory Point. It's not well marked at all. So, here I am, somewhat lost, seeing the Utah countryside. It's beautiful!




In the distance are test facilities for Morton Thiokol Rocket Engines, also known now as ATK Aerospace. Here is where the solid rocket boosters for the Space Shuttle were made. It's in the middle of nowhere for good reason. Those solid rockets are pretty dangerous! Solid rocket fuel does not stop burning until it's completely used up. It has its own oxygen source built in, so you can't shut it off or extinguish it.




Wahoo!!!! I made it! Promontory, Utah, the site of the joining of the two sections of Transcontinental Railroad in 1869. This is really in the middle of nowhere!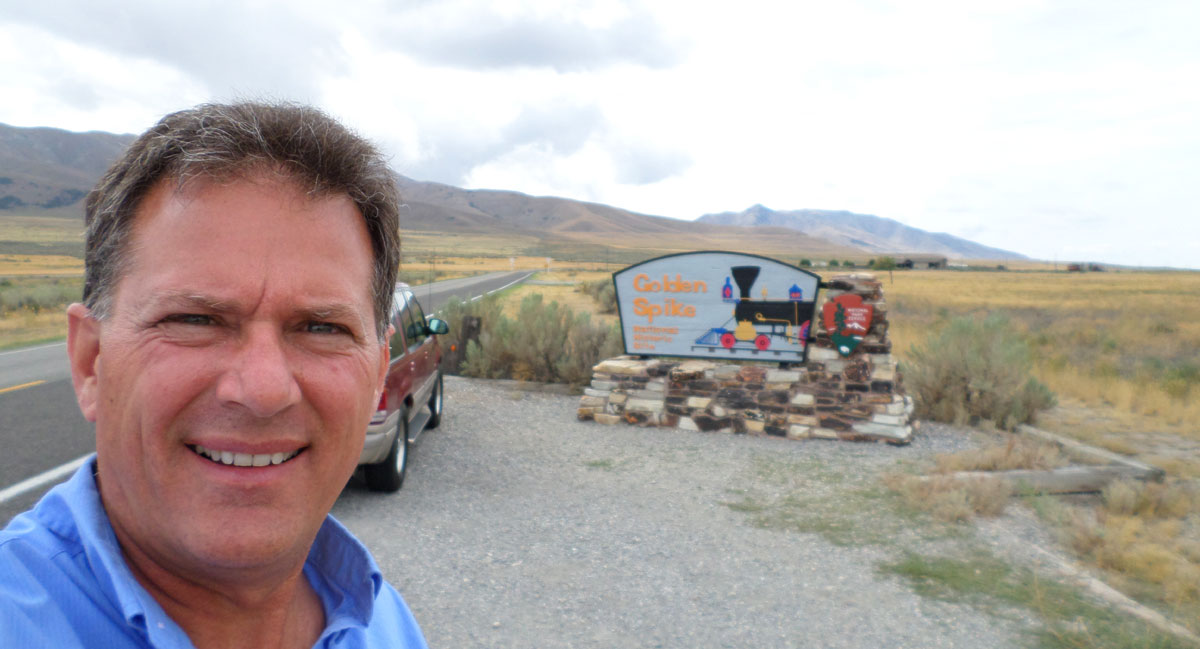 There were a lot of these informational displays all over, inside and outside. Fascinating! This one paragraph says it all: The six month journey to California is reduced to less than a week. The Transcontinental Railroad changed the United States, and truthfully, changed the world. All the riches of California could be shipped to markets in the East. Settlers could now get to California with relative ease, comfort, and speed. Towns all along the rail line sprouted up, as did more railroad lines. Once it was possible to get supplies across the vast distances, towns and settlers followed in great numbers.




The laying of 10 miles of railroad track has never, NEVER, been equaled anywhere, any time since, even with today's modern equipment. I wrote about this at the Sacramento Museum page, and I'll repeat it here, because the feat is so amazing, it's unbelievable:

What this placard DOESN'T tell you is that the 30-foot rails weigh 560 pounds EACH! There were 2 teams of 4 men each carrying the rails forward. Using tongs that weighed about 10 pounds each, this means that each man had to lift 150 pounds for EACH rail, carry it forward, drop it, then run back for another. The track moved an average of 1 mile per hour.




Well, this factoid below goes to show that incompetence in government isn't anything new!




What a sight! Both steam engines were hot, and ready to roll. Only 119 moved, and wow, was it amazing! I've never witnessed a full-size steam engine move before. Having played on so many of them over the years, it was an emotional sight to behold. Quiet, too!

The engine on the left came from California, and with all the wood that's available out West, it burns wood logs. The smoke funnel is designed to trap embers that wood produces when it burns.

The engine on the right came from Omaha, and burns coal, so no extra equipment is needed on the smokestack.

Both locomotives are reproductions of the originals, which had been used extensively and scrapped back in the day, after they became inefficient.

The guy in black is reading one of the many outdoor informational posters. The guy with the orange shoes has no excuses!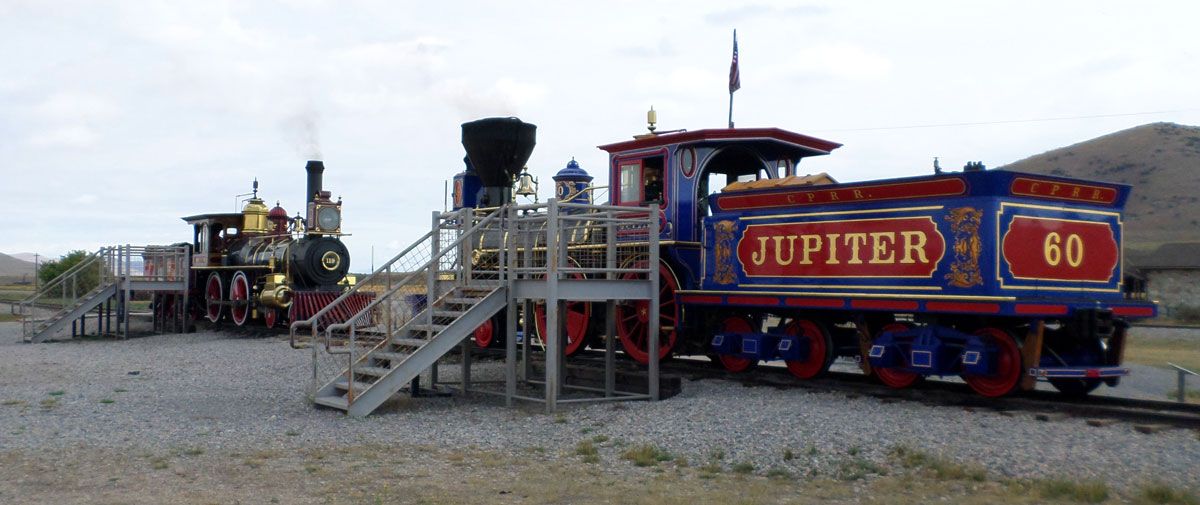 What a beautiful piece of vintage machinery!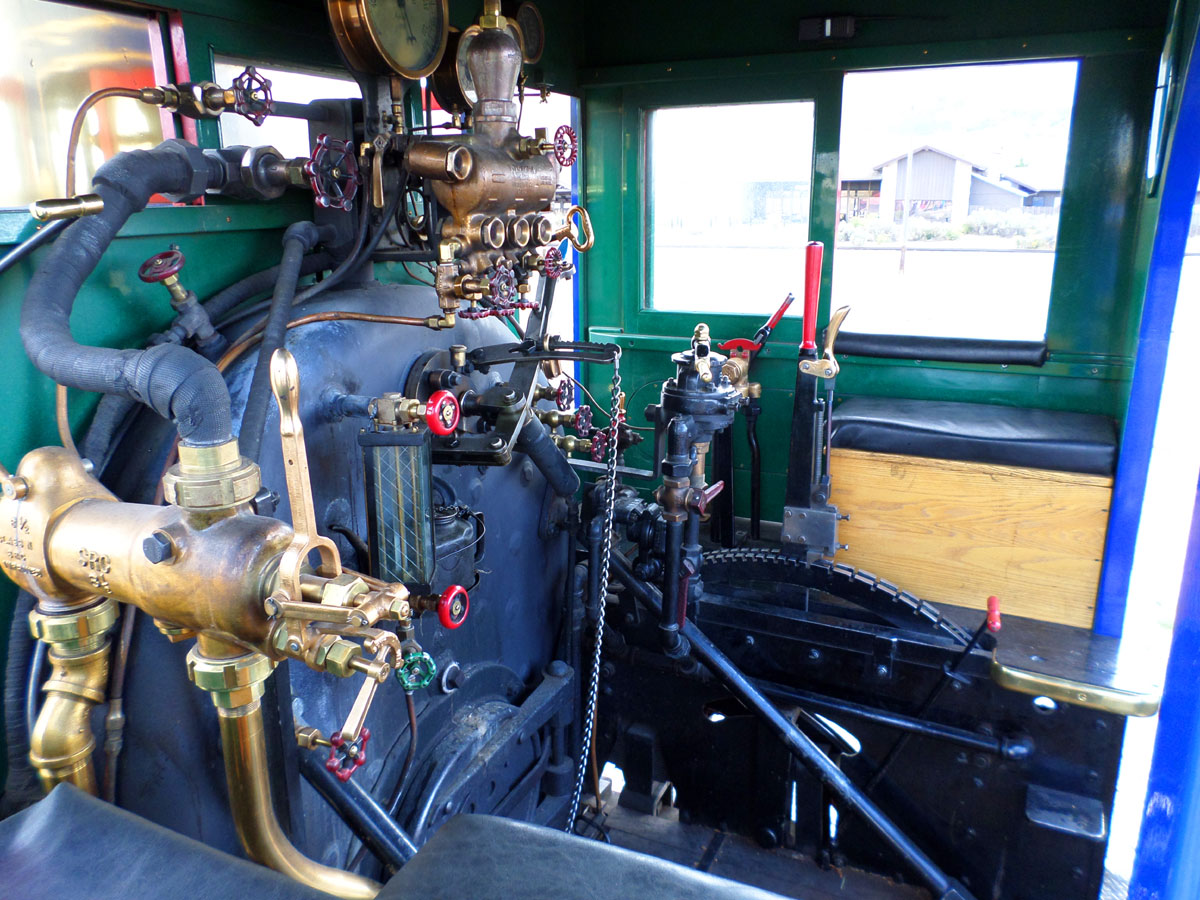 Here's the wood supply on Jupiter. All around the outside is water storage for the locomotive.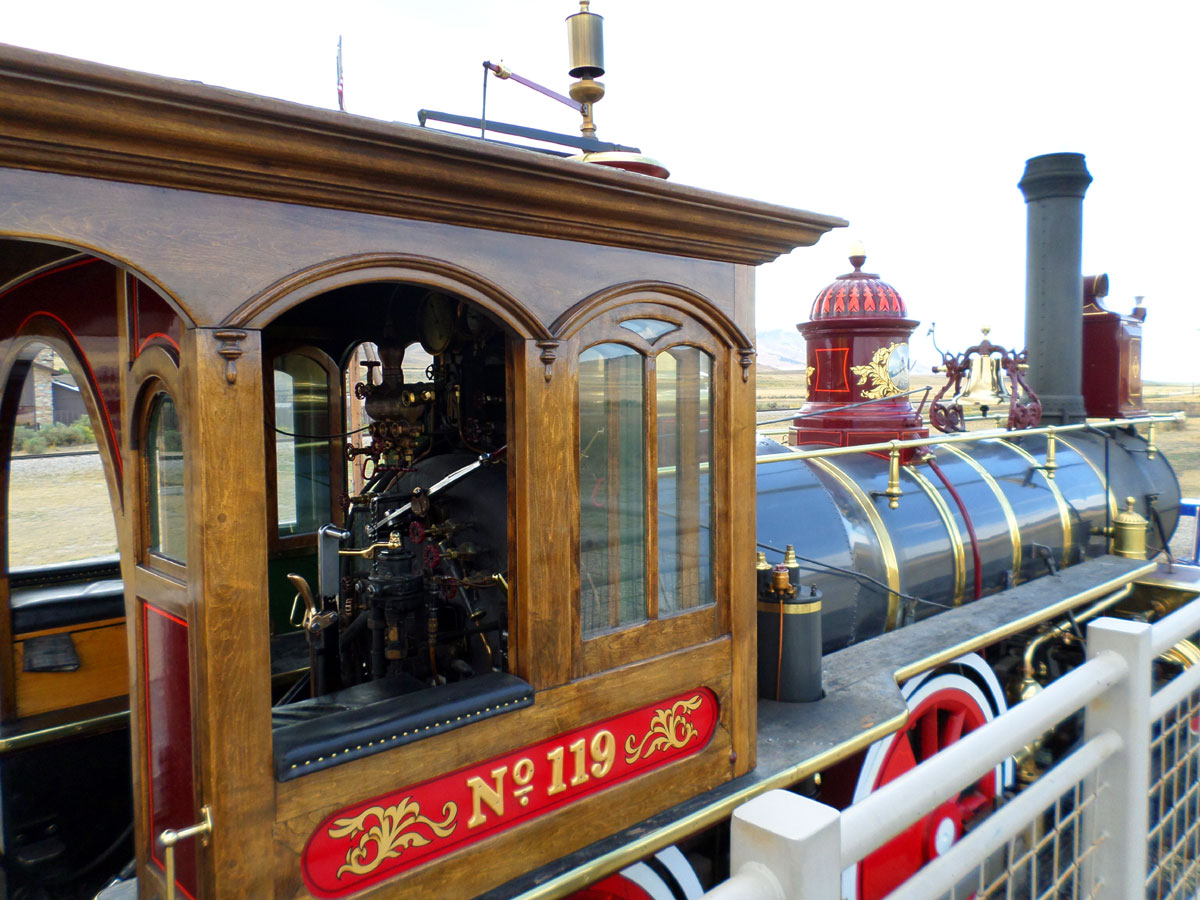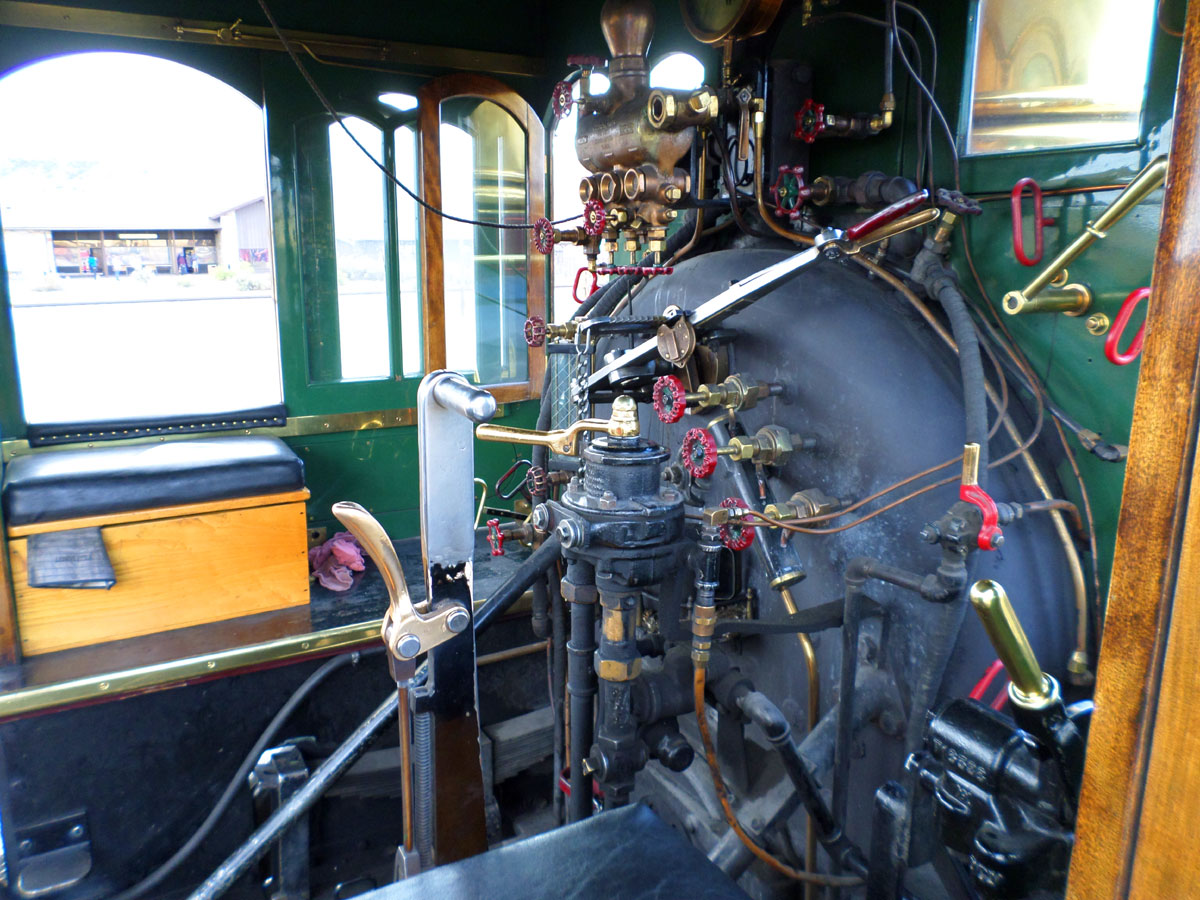 Coal for the firebox, surrounded by water tanks.





After spending several hours at the museum, and watching locomotive 119 move along the line, I set out to drive the old rail line, which had been pulled up during WWII for its metal content.

As you would expect, the road bed is smooth and gentle, just what is needed for a train!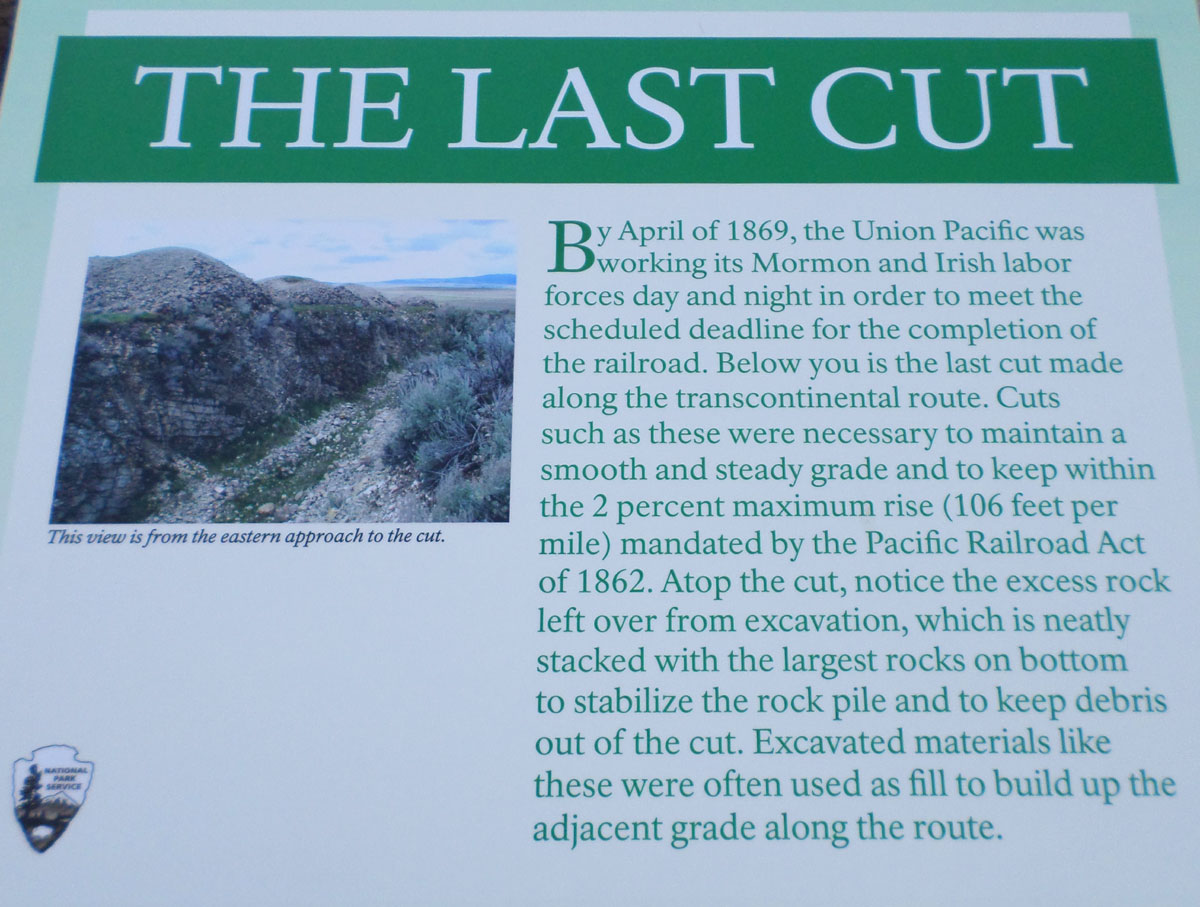 There was a nice parking area along the rail bed, for visitors to stop. I had lunch here, and hung out for a couple of hours, just absorbing the experience. Not a single soul came by the whole time.

My table is a Goodwill thrift store find...the price sticker of $12 is still on it! It folds up completely into a small suitcase. Lunch was crackers, sliced chicken lunchmeat, sliced cheese, and Sun Drop and Mountain Dew. What an amazing afternoon! The temperature was 75, there was a very slight breeze.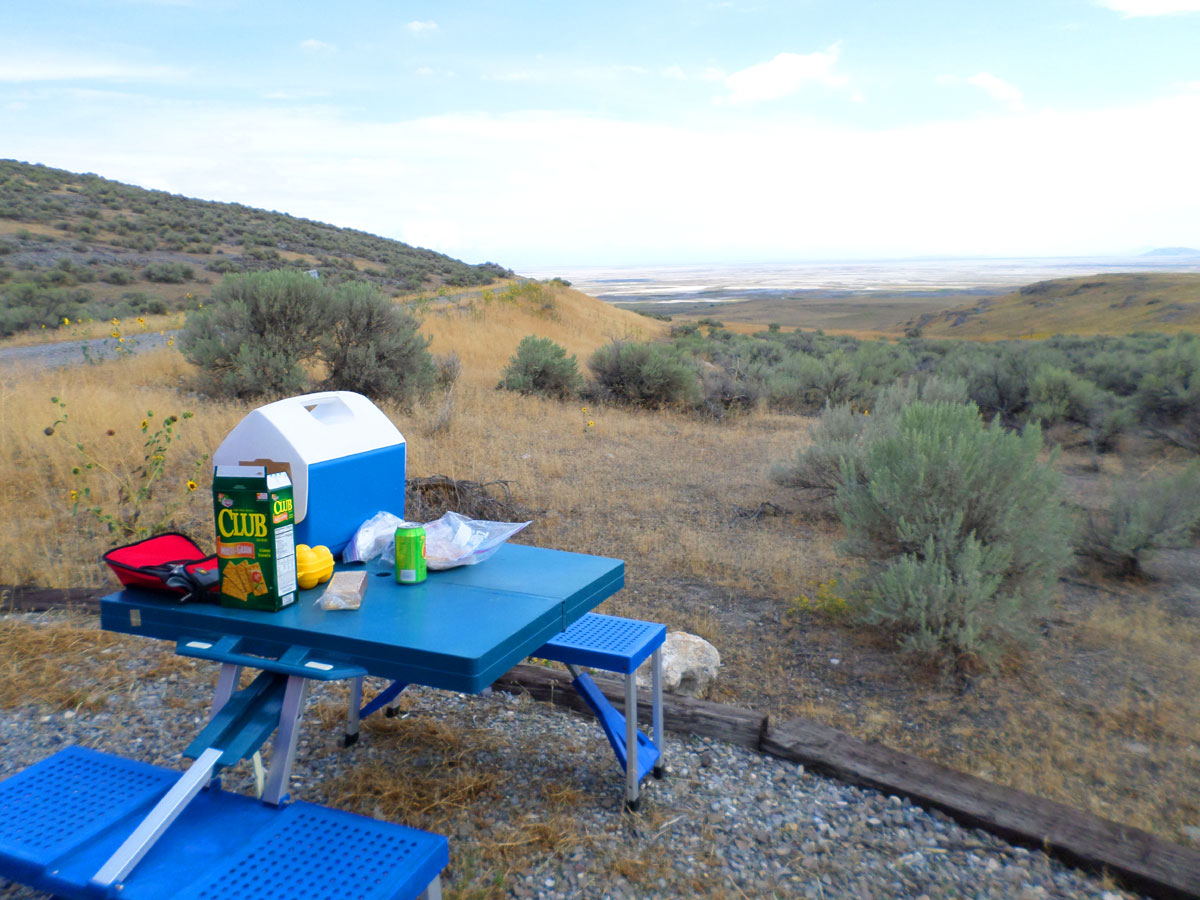 Back on the Interstate freeway, headed East again!




This is I-84, East of Ogden.




A little sign said "Devil's Slide," and so I just had to stop and check it out! It's an interesting rock formation, right on the side of the I-84 freeway, in Morgan, Utah. You can google map it.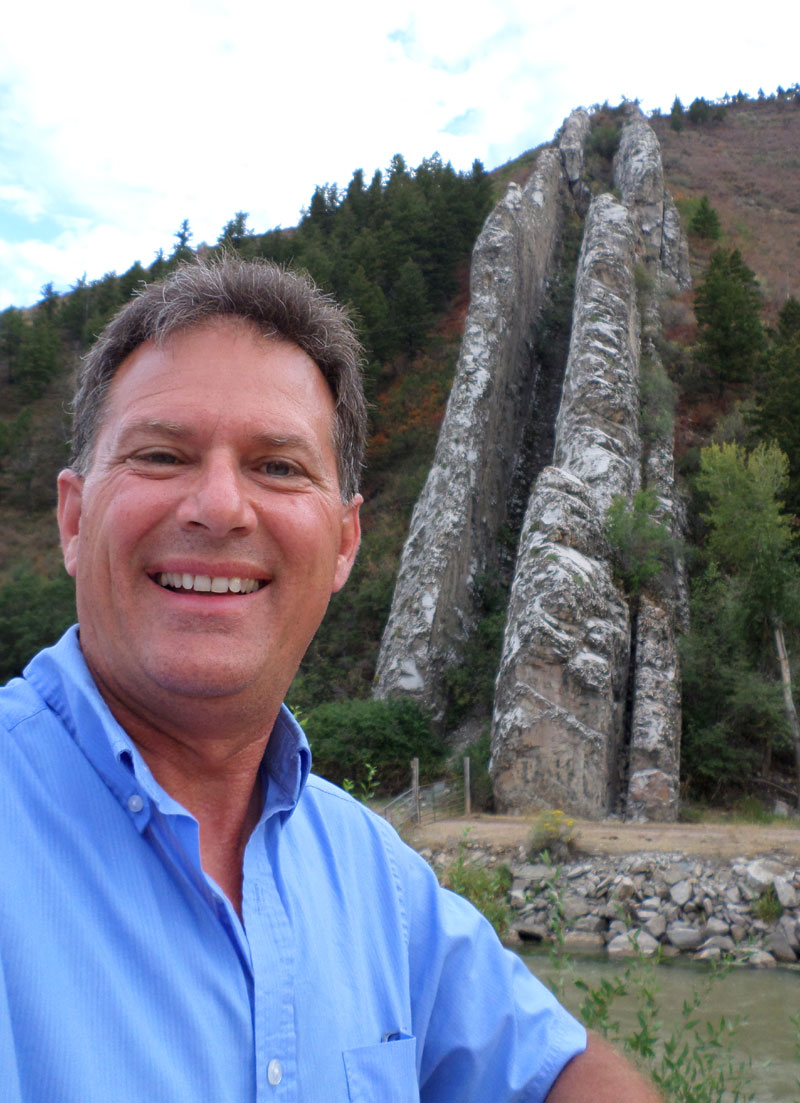 After this point, it was smooth sailing all the way to my next stop in Rock Springs, Wyoming.

Go to next page

Go back to title page


---
Questions? Comments?