Cool Tools, Fast Fords, Awesome ATV's, Real Rockets,
and Heartfelt Tributes To Lost Loved Ones
---
The Gee-Whiz Page
Here is some background: My late father, whose name was Bob, called me "G" or "G-Whiz" as a nickname for my given name, Gerard. He died on August 16, 1992, and as a tribute to him, I created the tool you see featured on the Cool Tool page and I named it BOB, in his honor.
Also in these pages is a tribute to my brother's 16 year old daughter, Vanessa, who was killed August 26, 2002, in an auto accident. Please click on her photo for a page of photos and some music that was special to her.

---
The Real Bob Our Niece Vanessa
Cool Tools Real Rockets Fast Fords The Ford Pinto Page
Our Old Dune Buggies Awesome ATV's Personal History of Pismo/Oceano Dunes
Car and Motorcycle Books and Videos
---
Other things on this site


6427 Miles: A Tour of America by Car
SR-71 and A-12 Blackbird Mission
Orange 70 Ford Torino 302
99 Xplorer 230 XLWT Repairs and Modifications

Marina Beach Old and Current Photos
Free Holley Carburetor Tuning Help Page
Edelbrock Head vs. Ford Head Physical Comparison
"Bob-isms" A New Language Created by Pop Find out the real meaning of the word "vacation."
An Animated GIF with a Funny Story
The Pinto Showcase Other people's Pintos and Pinto parts.
A day at the drags with Jason Baffrey, Frank Hawley, and Friends
---
This page is sponsored by my company, Gerard's Car, ATV, Cycle Books & Videos, featuring all types of reading and viewing material for motorized transportation.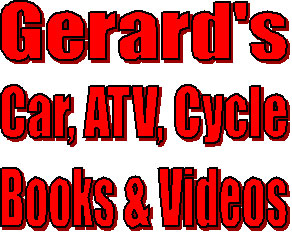 Click here to check it out!
www.bob2000.com/booksvids.html
Questions? Comments?
---

All photographs and content on this website are copyrighted by the author. Unauthorized reproduction is strictly prohibited!