Hey, why is there a Torino in Italy????? ;-) I thought Ford had the first one...

Anyway, I was on business in Rome Italy in February 2008, and was walking all over and found this sign. Pretty cool, huh!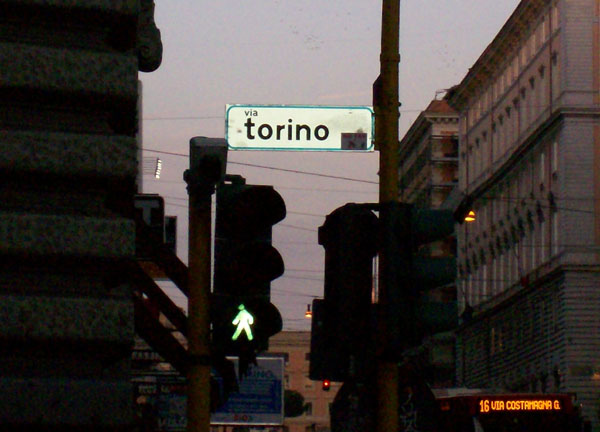 ---
Page Navigation
---
Gerard's 1970 Ford Torino Sportsroof
After being an FE (390, 427, 428) enthusiast for many years, it came to the point that FE parts became too expensive to run hard. I have noticed that the 385 series engines (429, 460) are readily available in the local want ads, and speed parts are still being produced. As a matter of fact, the 460 is THE engine to use to get big horspower with a Ford.
So, I looked around for a body style I liked that came with a 429, and found the 70-71 Torino to my liking. I wish I could afford a Torino Cobra, but I can't, so my plan is to take a lesser model and make a clone. I searched for a long time for a 429 or 351C equipped car to get the 9-inch rear axle, but everything under my budget of $5000 was too rusty, or gone when I got to it. Then, one night in May 2006 while surfing Ebay, I found a 70 Torino 302, automatic, drum-brake, 8-inch car on a "Buy-It-Now" auction for $2800, and it was within an hour's drive of San Diego! I bought it immediately, then drove up the next weekend to pick it up. Here's what the auction pics showed:
The auction stated no rust, and since I'm not a bodyman, that was important. When I got there, the car was exactly as described...a bit bumped up, but no major dents, and no rust except for a tiny spot at the right rear of the rear window. The engine was freshly rebuilt, and had been started only once. We got it started, and I was happy that I'd have some way to move the car around the yard. The car came with a black carpet kit, remote sports mirrors, and a power brake booster and bracket in the trunk. As stated on the auction, the transmission was leaking badly, and there were no brakes, so the seller and I pushed it onto a U-Haul Auto Transport, and away I went!
---

Here are some better pics in my side yard.
The trim is coming off anyhow, so the missing stuff is not important. I'm kind of glad it's not a GT, because I'm making a Cobra clone, and those don't have emblems on the sides like the GT cars do.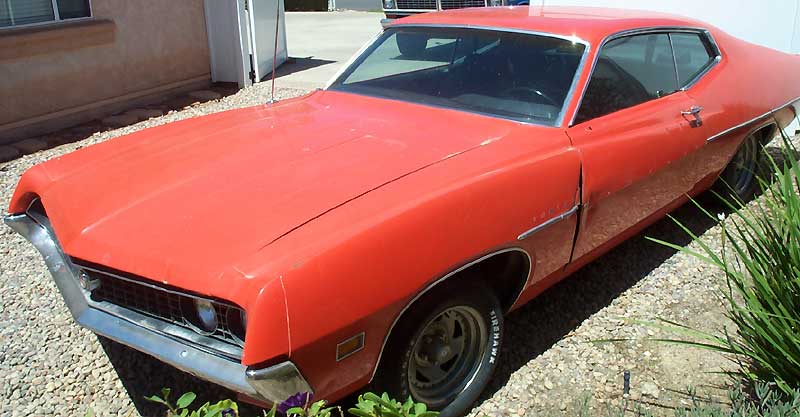 One interesting thing that this car doesn't have is a chrome piece on the beltline of the door. I'm not really sure why it's not there, but there are no missing holes, so the car came that way from the factory.
This is about the worst of the damage. I'm not really sure how this happened. I'll try to get the fender fixed, as there is no rust down low.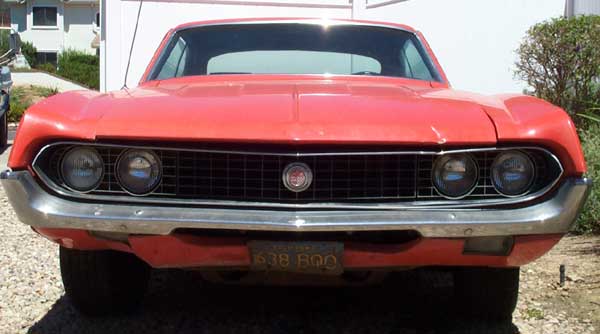 The hood got bumped on the driver's side, bending it down about 12-18 inches back from the leading edge. Should be fixable. The lower valance hasn't fared as well, and looks like it will need to be replaced. The right front fender is bent up a bit...can't understand how that one happened either.
The rear bumper has been bumped, so it will need straightening before re-chroming.
Here is the only rust I've found so far. Pretty easily repaired, I believe.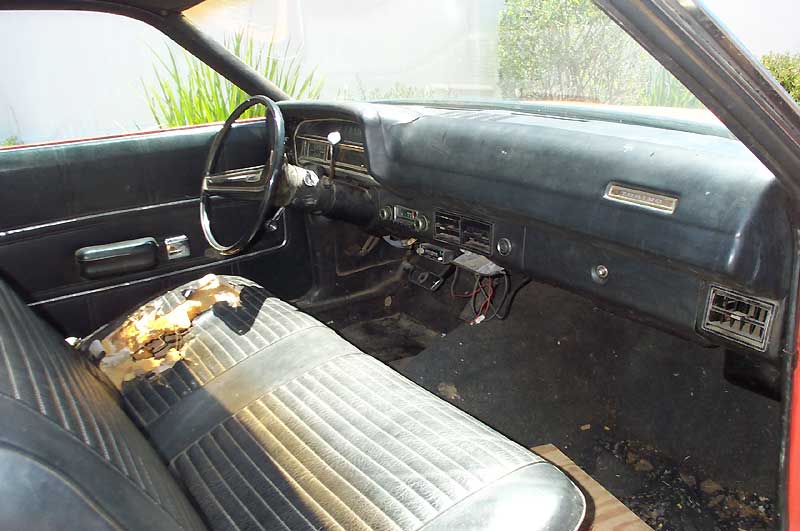 The interior is kinda sad, especially the seat foam. I'm glad it's black inside, which is what I would have changed it to had it been any other color. My color scheme will be 70 Ford Candyapple Red with blacked out hood, and black interior. Considering how much bucket seats, console, and floor shifter cost for these cars, I'll be keeping the bench seat and column shift.
Will need new door panels in the front. I already scored Cobra door and dash emblems on Ebay.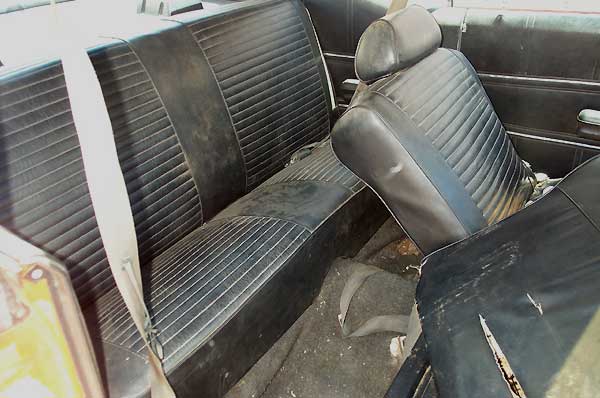 Maybe the back seat is salvageable. The front seat frame is broken on the driver's side, and will need repair.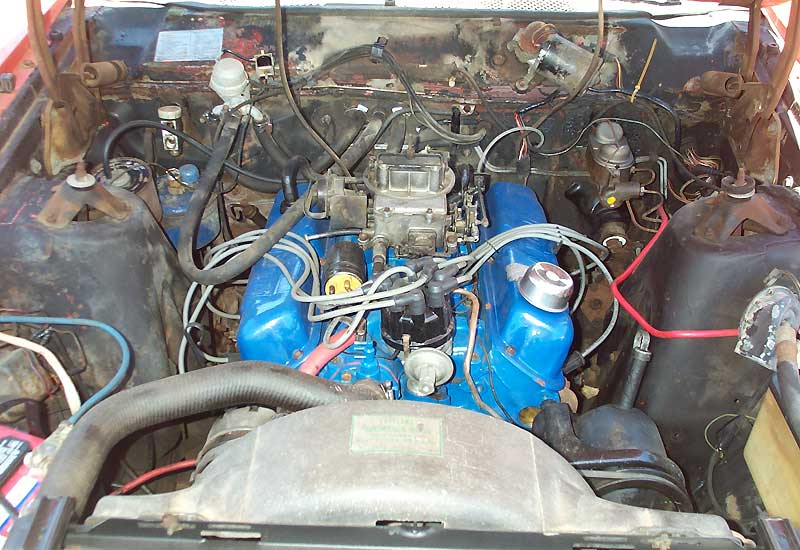 The engine is freshly rebuilt, and has late model heads, witnessed by the sled-style rocker arms, which hit the old-style valve covers, which I've since clearanced with a steel impact device (hammer). I'm wondering if the severe racket may have been why the prior owner gave up on it. It also smoked a lot at first, but that is due to residual oil in the old exhaust pipes from the prior worn-out engine. I put the new master cylinder on it, and still had a hard time getting some brakes to just move it around the yard. Turns out the back wheel cylinders were so rusted that the fluid couldn't get through. I had to remove the bleeders and poke the rust out. Now there is some semblance of brakes, enough to idle the car in and out of the back yard.
---
What I've bought so far
Dash and door emblems for a Torino Cobra.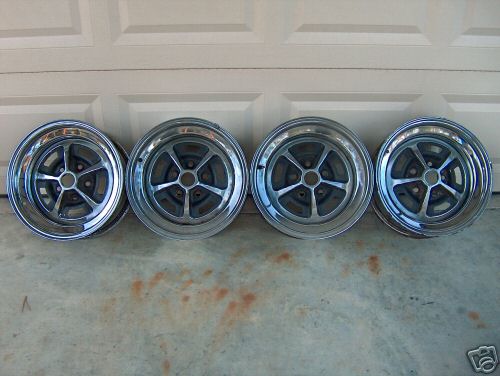 Got these genuine Ford Magnum 500 wheels on Ebay for $255 delivered. They're straight, but not perfect. They'll do for a driver, though.
These are some Shelby Mustang center caps that work on Magnum 500's by just bending the tabs out a little bit. I LIKE them a lot! I need one more metal spring tab, and three more plastic lock stars. Anyone have some junk parts lying about that were going to the trash? I'll pay you for them!

Since the 302 is not going to be the permanent engine, I'm going to have to sell it some day. It will sell a lot better with some nicer looking valve covers. I LOVE Mickey Thompson covers, and I hope these will clear the late model rocker arms. Got these for $32 on Ebay.
At a local car swap meet, I picked up a Performer 289 intake in excellent condition, along with a 600 Holley, as a package deal for $100.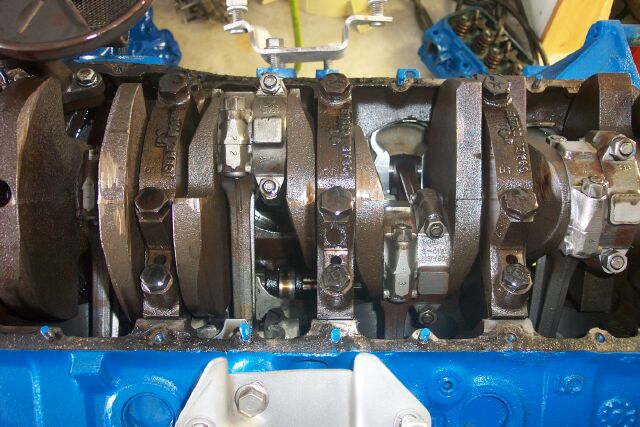 429 Cobra Jet engine on Ebay! This engine was for auction on Ebay, and didn't meet its reserve, probably because of difficulty and high cost for shipping. I didn't have the money to buy the engine while it was on auction, because I hadn't sold my Pinto yet. I emailed the owner and asked if I could contact him later after my car sold. He agreed, but I told him that if someone else came along, not to wait for me, as I wasn't a sure thing.
My Pinto sold on a Thursday, and the following Friday I emailed the owner of the engine. It was still available! It was located in north Denver, about 10 miles from my sister-in-law. She got me in contact with a trusted car friend of theirs, and I sent the money to him to pick up the engine. All the while, I was trying to figure out how to get the thing from Denver to San Diego, and I asked some guys at work if they had any ideas. My car friend Bill said, "Hey, I'm driving through Denver in late September in my pickup, and I'd be glad to bring it back for you." WOW, talk about karma! So, the car guy friend of my sister-in-law has the engine now, and will hold it until my friend can stop on his way back from Michigan in September.
The particulars of this engine: 1971 429 Cobra Jet 4-bolt main block, .030 over forged flat tops, football bolt head rods, ported early non-CJ heads, screw-in studs, guideplates, pushrods, roller rockers, cast aluminum Ford valve covers, hydraulic cam of unknown specs, oil pan, flex plate, starter alignment plate, water pump, pulleys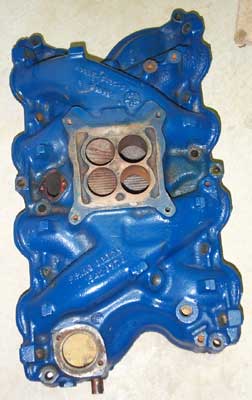 429 Super Cobra Jet intake manifold. A friend from the Torino/Cyclone Forum at http://www.network54.com/Forum/198944/ mentioned that he had this intake and would sell it to one of the group. So, here it is! Man, those ports are HUUGE! Thanks John P!
Hooker Competition headers, pn 6115. I found these on the internet, and they are New Old Stock (NOS) parts from about 10 years past. The fellow who had them never used them, then sold the car. Pieces of silver tape are just holding the slip joints together.

Mystery headers!

Got these unused headers off Craigslist for $25...not sure what chassis they fit. The primaries appear to be 2 inches in diameter, and the collectors are 3-3/8.

Yeah! I couldn't believe that someone hadn't already snagged these! Wahoo!

There is more to come!
---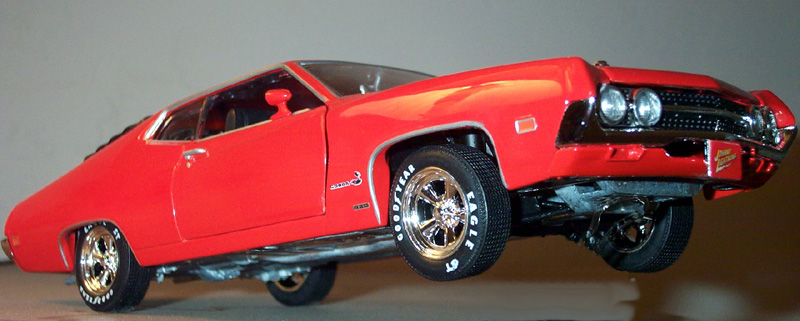 Yeah, my car is getting some air here!
This is my new Torino Cobra, a die-cast Johnny Lighting car from this guy on ebay: http://myworld.ebay.com/erins_wheels/
That is the color my car will be some day.
---
December 24, 2006
Disc Brake Day!!!!
I bought a set of 70 Torino front disc brakes from a friend at the Torino Forum, and today is the day to put them on!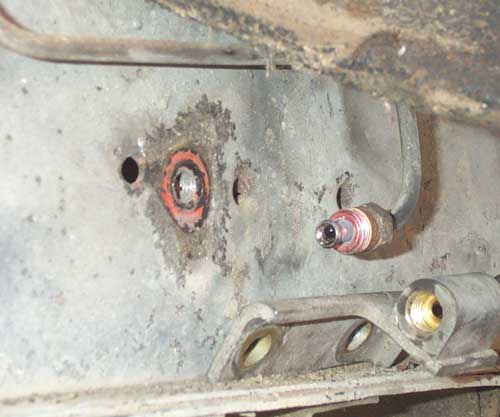 I started on the passenger side, and hit the first snafu. Ford, in its infinite wisdom, made the brake lines non-interchangable from drums to discs. The fitting not only points the wrong direction, but the drum thread is one size too large to fit into the disc hose. The tubing is the right size, but the fitting is different. It was a good thing that my friend cut the tubes on the donor car and included them with the lines, so I would have the correct flare nut. I was able to cut the tube and reflare it with a double flaring tool.
I moved over to the driver's side, and the problem with the line wasn't so bad...the line pointed in the right direction, but was coiled up for some reason. I uncoiled it and cut and reflared as on the passenger side.
The main problem I found on the driver's side is that the prior owner didn't tighten either of the ball joints or tie rod! There were no cotter pins in any of the nuts, and they were all just barely tight. It's a good thing I didn't try to drive the car anywhere.

---
November, 2007
I removed the carpet from the car, and found this underneath. There sure was a bump there!
This is all that's left of the dome light lens!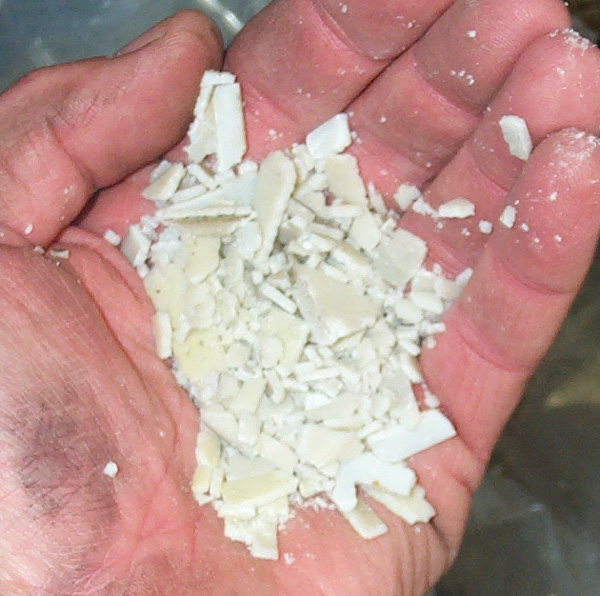 ---
May 12, 2008 Engine Teardown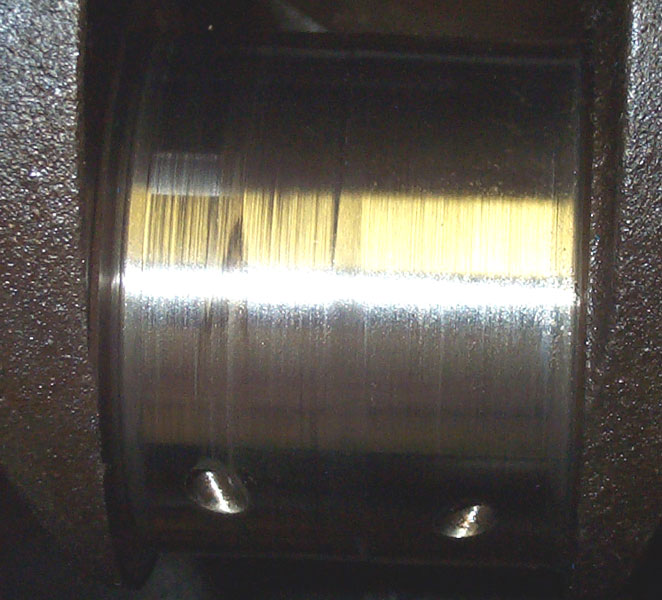 Well, I finally got the 429 on the engine stand and got to tearing into it. I had high hopes that it would just need gaskets, but after seeing that the steel freeze plugs, I decided to replace them. Once those were out and I found a ton of debris in the water jackets, I knew it would be a total teardown for a trip to the dip tank. So, off come the connecting rods. I started at #8, because it was at the bottom of its stroke, leaving the nuts easy to access. Immediately after I loosened the nuts and tapped the rod bolts, I knew I was in trouble, because the bearing insert came loose, rather than staying with the rod cap. This always occurs because the insert has lost its spring due to damage, and sure enough, this is what I found. All the rod bearings showed damage, the worst being furthest from the oil pump, the best being closest to the oil pump. Apparently, this engine had an oil supply problem.
The crank is already .010/.010. I need to mic it and see if it'll clean up at .020/.020. A new crank may be needed, depending on the damage.
---
---