The Ford Pinto Showcase!
Hi all you Pinto fans! Due to popular demand from all the other Pinto fans on the net, I've started a Pinto showcase for Pinto fans out there in cyberland. What you'll see here are photos of cars around the country, and their owner's email addresses, if they so wish to publish them.
As of July 99, I'm dropping the cars for sale. It just seems to me that nobody wants to travel very far to buy a car, no matter how interested they seem, or how good of a deal the car is. The best suggestion I have is to check other online sale pages, such as Recycler.com, Auto Trader Online, and others. Do a search for online car sellers, if you are looking for a car, or if you want to sell one. Scott Hamilton has taken over the cars for sale portion. See his link below.
As of March, 2000, Scott Hamilton has taken over the "Parts For Sale" portion where other folks have stuff for sale. I will still post my own parts, but just can't find enough time to post everyone else's stuff.
At the bottom of the page are manufacturers of stuff for Pintos. If anyone knows of any other suppliers, please email me. The list is short, and we could all benefit from more manufacturers for our cars. I will list the manufacturer, and a place where you can buy their products. Some will sell to you directly, others require you to buy from a distributor.
We still haven't found suppliers for these items, which are in big demand: Windshield rubber, early clutch cables, and early manual shifters. If you have any of these parts, let me know.
Scott Hamilton at http://www.fordpinto.com has really done a lot for us Pinto folks. I recommend that anyone who wants any information or parts for a Pinto visit his site. He also has lots of Pinto pictures.
---
Cars for sale now at www.fordpinto.com
---
Pinto owners and fans
---
I've seen Pinto engines in dune buggies before, but this application beats them all!
Pinto Powered Motorcycle!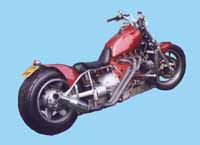 YIKES!!!!!!
This belongs to Bob Beaumont of the UK.
Here is what Bob has to say about his creation:
"The bike was built to avoid expensive bike
part prices whilst maintaining performance and individuality. As you can see,
the fuel tanks have been changed since the first photo (now smaller under the
engine 60 mile range),see second photo. The engine is a 2 litre Pinto, I am
not sure what year. The brakes and front end are from a Suzuki
GSXR, rear wheel from a Suzuki Vitara 4x4. Twin Weber carbs with K and N filter.
The bike uses the engine as a stressed member and has direct drive via a
chain to the driveshaft.
Only 1 gear, 0-160 mph. You just slip the clutch to start. The engine has
enough torque not to need extra gearing, although this might be a possibility
in the future for faster starts. The exhaust has already set fire to my leg
once, so a guard has had to be used.
I would also like any thoughts on how to increase the performance of the
bike, perfomance parts? It is also running a little hot I think, any ideas?
You can use my e mail address on your page so people can send ideas."
If Bob's out there, send me your new email address!

---
The lowest mileage, most original Pinto known to exist on the planet!
9800 mile original 1972 Pinto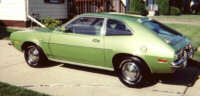 Click here to see this car in more detail
---
A VERY NICE CAR!
Scott Hamilton's 1972 Runabout, 58K Original Miles. It has the Pony Option, special interior stuff. It has a Vanity Plate with "KBOOM" on it.
---
YIKES! Turbo Pinto!

This is Tim's 1980 Pinto with a transplanted 88 Thunderbird Turbo Coupe engine. This is THE swap to do with your Pinto! Lots of power, good gas mileage, good weight distribution, and it's a BOLT-IN swap for 74 and newer Pintos.
---
And another excellent Turbo Pinto!
This is Brad's Turbo 2.3 in a 72 Pinto. On nitrous, he's run 11.80@115 so far, melting a plug at 3/4 track! There is room for a lot more!
Check out Brad's website for details on this killer motor!
http://hometown.aol.com/bjoorn/myhomepage/index.html

---
Pinto Pangra!
Be sure to visit Scott Hamilton's page for more info on this rare dress-up kit!
---
Pinto Powered Dragster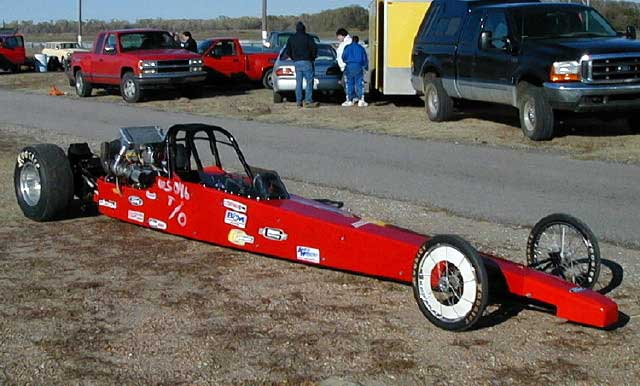 This car runs a 2.0 engine, turbocharged and intercooled, with a single sidedraft Weber carb. The car runs 9.74 @
130 mph in the quarter, and wipes out quite a few very surprised V8 cars. If you'd like more info on this unique race car,
email the owner, Rick Knapp, at
---
---

Nothing for sale right now. Check back again later, or go to www.fordpinto.com
---
---
HEADERS
Check your local smog laws before buying and installing these parts on your car. Some may not have all the hookups for your smog equipment, and may be illegal in your state!
Hedman Hedders, 562-921-0404, Cerritos, Ca. Hedman Hedders online catalog
2.0 Pinto: P/N 48020 This is a two-piece header, which requires welding of some clips for bolts to connect the two pieces. Don't weld the two pieces together directly! Since the 4 cylinder engine vibrates so much, welding the two pieces together causes cracking of the pipes. I know this from experience! Header exits under the floor of the car, pointing to the back.
2.3 Pinto: P/N 48030 I've never seen one, but it's probably just like the 2.0 header.
They also make 302-351W-351C-302 Boss swap headers for the Pinto.
Hooker Headers, 909-983-5871, Ontario, Ca.
2.0 Pinto: P/N 6705 One piece header, very short. Exits before making the turn to the back of the car, so it points to the ground when uncorked.
2.3 Pinto: P/N 6703, 6704. The second number has more smog equipment hookups. Likely the same configuration as the 2.0.
2.8 Pinto: P/N 6706
Hooker makes swap headers and swap engine mounts for 302-351W. I've seen these headers in cars, and I must say they are a real bundle of snakes. The front two cylinders come forward and wrap around the frame. I don't recommend these. Below is a picture of these headers. I've seen them installed, and it's not a very clean way to go. This is one of the reasons I really recommend the Thunderbird Turbo 4 engine swap if you want to go fast.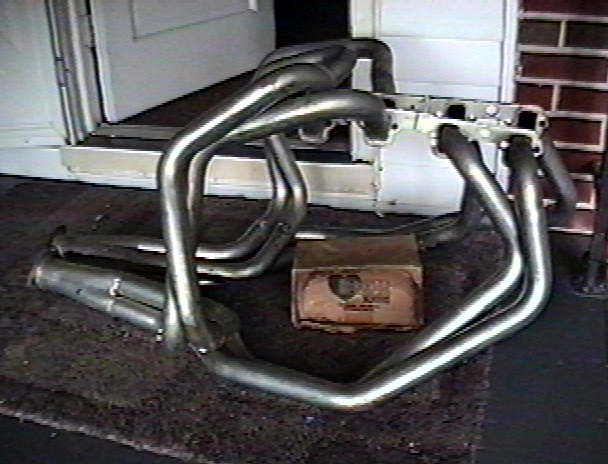 A good source for Hedman, Hooker, and other speed equipment is Summit Racing, 1-800-230-3030. I just bought a new Hedman header from them for $89. Summit Racing Equipment Home Page
Racer Walsh, 1-800-334-0151, Jacksonville, FLwww.racerwalsh.com
The leading Pinto supplier in the world! Headers, intakes, cams, heads, blocks, chassis parts, and lots of other really cool stuff, for 4 cylinders and V-6's. They still race their 2.0 Pinto in vintage racing, so these guys know how to build 'em. If you need an adjustable cam timing gear, this is the place!
Esslinger Engineering, 626-444-4919, South El Monte, CA www.esslingeracing.com
Esslinger has been around for a long time in the Pinto dune buggy engine business. I remember seeing their "Pinto Beans" sand rail in Phoenix in 1980. They offer 2.0 and 2.3 motors in the range of 150 to 750 horsepower! Their ad says they carry over two thousand parts, and they offer an 80 page catalog. These people are really nice, so give them a call or visit their site!
Auto Custom Carpets, 800-633-2358, Anniston, AL. Auto Custom Carpets, Inc. Home Page
ACC makes original equipment style carpets for just about anything with 4 wheels. I've used their carpets in my Fairlane and Pickup, and the quality and price can't be beat!
Just Dashes, Van Nuys Ca. http://www.justdashes.com/
Lots of people have been asking me for sources of uncracked dash pads. I don't think they exist in stock form. What you can do is contact this company to recover your existing dash pad. They fix the cracks, then recover the pad in the original style covering.
Other equipment
Cams:
Sig Erson, Crane, Competition Cams, Crower. It appears that when you start getting over .450 lift, longer valves are required to maintain follower geometry. Also, dual springs won't fit over Fel-Pro valvestem seals, and many valvesprings require machining of the head. Be sure to check these things before ordering!
Intake Manifolds: I don't know if these companies still make these manifolds, but they have in the past, and you might be able to find them used at swap meets.
Spearco: The best of the 4 barrel manifolds. Mounts the carb facing forward, so you can get to the jets without having to remove the carb. Smooth runners make it noticeably the best 4 barrel manifold out there.
Weiand: Physically the same as the Spearco manifold, but their name is embossed really big on the manifold and it looks ugly. They probably made Spearco's manifolds.
Offenhauser: Mounts the 4 barrel carb sideways, which makes it impossible to change primary jets without removing the carb. Sharp corners inside make this manifold flow poorly. Carb placement also makes it hard to adjust valves. The steel adapter that screws to the top of the aluminum intake tends to warp, causing vacuum leaks. Also comes in 2 barrel version. This manifold was marketed aggressively, and is the most common of them all.
Air filters: For the stock 2 barrel carb, it appears that K & N is the only one servicing the Holley-Weber 5200 series carb. For the 4 barrel Holley, I use an Edelbrock 10 inch housing that has the base cut down to provide additonal hood clearance. Summit can get these for you, as can many speed shops.
General parts for Ford 4 cylinder engines: Ford SVO! Yes, there is limited factory support for 4 cylinder engines! Check Super Ford magazine or your local Ford dealership for more info on SVO.
Tips: When changing carbs, be sure to check the clearance to the hood of your car BEFORE you slam the hood. Also, if you run your car hard, you might want to think about a device to limit the movement of the engine under power. Engines torque to the passenger side under load. On the Pinto, this means the carb goes UP, right into your hood. My car has a little piece of angle iron welded to the frame for the driver's side engine mount to come up against.
On the 2.0, the valves are pretty noisy to begin with. If your car won't hold a valve adjustment for more than a few thousand miles, you likely need new cam bearings. This is especially true if you have a big cam or strong valvesprings. The 2.0 has just three cam bearings, and the cam goes out the back of the head. So, if you want to change the cam or cam bearings, you'll have to remove the head or the engine. This feature was fixed on the 2.3. It has 4 cam bearings, and its cam comes out the front of the engine.
---
V8 Swaps
I've seen many V8 Pinto swaps, and I just don't care for them when driven on the street. The engine compartment on the Pinto is so far forward that the heavy V8 ends up too far in front of the front axle centerline. The car then becomes front heavy, and difficult to handle. If your goal is a stip-only car, then maybe a swap is good idea for you. If you want to drive the car on the street, I recommend the Turbo 2.3 swap from a fuel injected Thunderbird Turbo Coupe of the mid-80's. There are lots of these cars out there, and their declining condition makes them very inexpensive. You can buy the entire car, remove the engine and computer, then sell the rest to a body shop or part it out, and make a lot of money back. This swap also preserves the integrity of the Pinto, as it's an easy, bolt-in swap for any Pinto 74 and up, and can be swapped in with little trouble on 71-73 cars. Keeping a 4 cylinder powerplant also makes for lower insurance payments, and helps keep the resale value of the car. The turbo4 makes 175 to 200 horsepower from the factory, and can put out an easy 250 hp with simple bolt-ons.
If you still want to perform the V8 swap, the November 99 issue of Hot Rod lists these vendors as parts sources:
Total Performance, 810-468-3673 Engine mounts, oil pans, and headers.
Milodon, 818-407-1211 Oil pans
Hooker, 909-983-5871 Headers and engine mounts. (I really hate these swap headers, and don't recommend them.)
---
Links
www.fordpinto.com Cars for sale, and lots of info.
---
---
This page is sponsored by my company, Gerard's Car, ATV, Cycle Books & Videos, featuring all types of reading and viewing material for motorized transportation.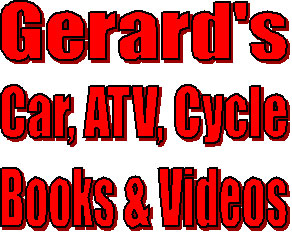 Click here to check it out!
www.bob2000.com/booksvids.html
Be sure to check out the Pinto hotrodding book and the car videos, especially "Folks!" which has the MOST hilarious Pinto scene ever caught on film.
Questions? Comments?
---
Most photographs and all content on this website are copyrighted by the author. Unauthorized reproduction is strictly prohibited!