Gerard's 429 Ford Engine
This 429 Ford is going to go into my 1970 Torino, with a C6 automatic, TCI 3500 stall converter, and 4:11 gears. I'm trying to keep it looking stock, so I want to keep the iron heads and intake manifold.
What I have:
D0VE-A four-bolt main block
CJ Rods
TRW forged flat top pistons, .030, in excellent condition
Stock crank in poor condition. It appears that the crank and cam were subjected to low oil pressure. The front bearings are in fair condition, and all the journals get progressively worse toward the back of the engine, as if it was starving for oil.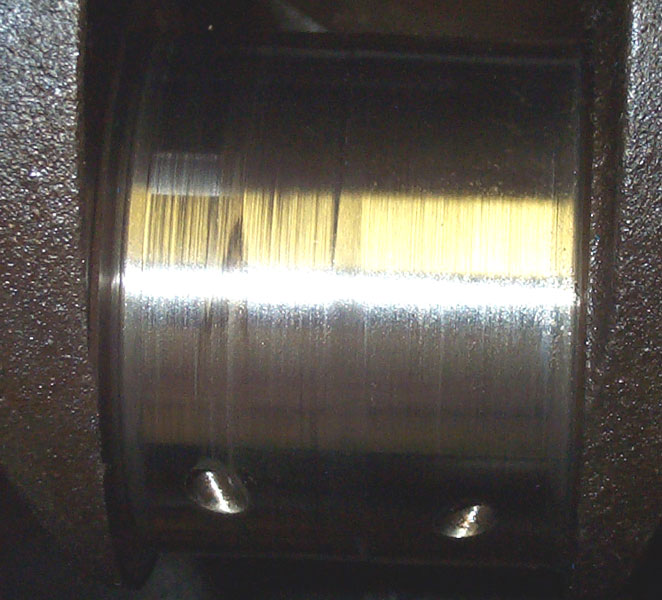 Ok, maybe THIS is a problem! Whoever installed the oil pump didn't realize that the gasket goes on only one way, and they flipped it, causing a partial blockage. The oil pump inside is rough too, so maybe someone ran the engine too long without changing the filter, then the filter got clogged, bypassed itself, and sent all that garbage through the engine. So, low oil pressure, then a bunch of metal running through the bearings????
D0VE-C Heads with screw-in studs
CJ Oil Pan (optional, may not use)
Super Cobra Jet Intake. I plan to cut the divider between the front and back barrels, leaving the divider between the right and left sides. This should diminish the flow restriction caused by the sharp radius at the bottom of the throat.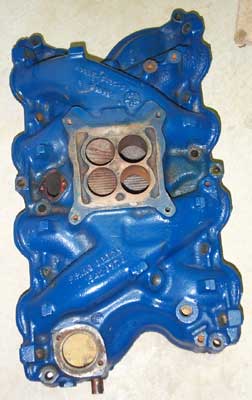 Hooker 6115 Headers

Solid Lifter Cam:

Comp springs, 951-16
Here is what the seller told me about the cam:
Motor spec were to be .030 429 11.3.1 compression dove'c heads 2.19 int 1.76 exh stealth intake 850 cfm carb.
Cam was designed to make peak hp at 6000 rpm. It's basically the same cam Scott's running in his cyclone with a hair
more lift. Ground on 110 to be installed at 106. Duration Int 245.1 Exh 255.5 Lift Int .604 Exh .633
Cam is new in the box with Scott's special grooved lifters also new.
Comp cams springs 930-16
Comp cams retainers 741-16
Comp cams locks 611-16
Comp cams spring cups 4700-16
Springs retainers locks and spring cups were used for a cam break in. Bought from Damon Sea on the
460 forum They were at Charlie Evans shop and he checked the spring pressures and inspected
everything before I bought them.
The cam lift will be .628 in/.659 exh with these 1.8:1 Crower rocker arms. I checked Comp's website, and it looks like I'll have .080 remaining before bind with .659 lift.

Cylinder bore and piston information:

TRW L2366 .030 pistons in very good condition. approximately .008 clearance, bore size 4.395, piston size 4.387.
Ring widths 5/64, 5/64, 3/16
Also to be installed or re-installed:
Large diameter oil pump shaft
735 Holley Vacuum Secondary Carb (optional, can go larger)
Aluminum CJ Valve Covers
Reproduction Shaker Hood Scoop without snorkel
MSD 6A with manual timing dialback
Things I already know I need:
New timing chain
Crank oil slinger
Fuel pump cam
Water pump steel plate
New or sleeved crank spacer
Flexplate
Head gaskets
Things that may need to be replaced:
Harmonic balancer (the one I have is from 1970)
Questions:
Is it common for 429's to ruin bearings toward the back of the engine like this?
Is there something in the block I need to check for an oil supply problem?
What is a good oil pump for this engine? I'm leaning toward something with a bolt-on pickup, not the stock press in.
What thickness of head gaskets should I use?
What do you think?
Email me from this webpage: Email Gerard
---
Update June 1, 2008
Since the engine failed due to debris in the oil, I'm making it a point to get all the galley plugs out for a good cleaning. The front ones came out easy, and the middle ones had to be drilled and EZ-Out'd. But the back ones???? Not THAT's another story! It took a FOUR FOOT LONG cheater bar AND heat to get the two back plugs out with an EZ-Out.